News
Spotlight: SCRUBS-CUH Workplace Choir

The Spotlight series highlights the role of healthcare professionals who are developing, leading and collaborating on arts and health initiatives. This month the spotlight is on SCRUBS, the workplace choir at Cork University Hospital which has over 60 members, made up of current and retired staff from the hospital campus. 
Who we are
SCRUBS-CUH Workplace Choir was formed in June 2015 to take part in the Lyric FM Workplace Choir competition and was delighted to reach the final. The experience was so enjoyable that the choir has stayed together, participating in events both within and outside the hospital. These include Cork Choral festival, Feis Maitiu and many fundraising concerts. SCRUBS has made two appearances on the Today Christmas TV show. In 2017, we were invited to Birmingham for Britain's Got Talent, singing before a live audience and judges and receiving four 'yeses'. We also reached the 2017 Workplace Choir final and ShowChoir of Ireland competition, winning the award for best vocals. We plan to travel to Vienna to take part in the international festival in November 2018.
SCRUBS has over 60 members, made up of current and retired staff from Cork University Hospital campus. Every major department is represented – doctors, nurses, admin, catering, porters and allied health professionals.
Our very talented musical director, Patrick Dalton, deserves much credit for moulding our motley group into a choir. Apart from being an excellent musician, Patrick's patience, good humour and understanding has contributed so much to making the choir so enjoyable for all of us. He has been ably supported by a number of accompanists, in particular Joseph Norton who has been with us since September.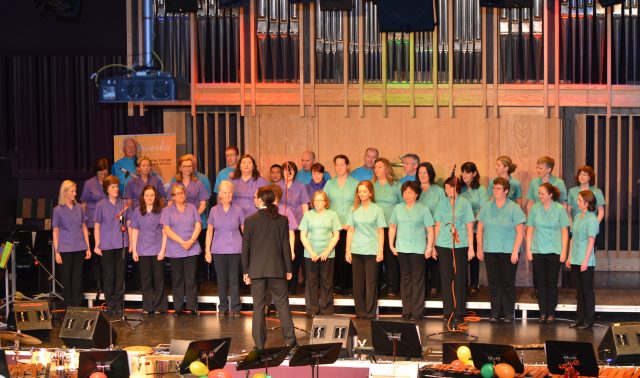 Why we started SCRUBS
Having heard of the benefits of choral singing, we wondered if there would be any interest among CUH Staff in taking part in the Workplace Choir competition. We were amazed at the response and the choir has already surpassed all expectations in the subsequent two and a half years of its existence. It is primarily a group of people who want to unwind after a hard day's work by singing in a relaxed and enjoyable atmosphere. The choir has given a great boost to staff morale, becoming an invaluable asset for the hospital in celebrating both joyous and sad occasions including Christmas carol services, graduation ceremonies and memorial masses for departed colleagues.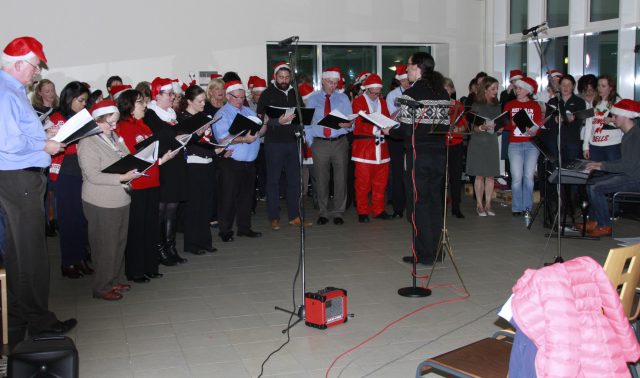 'The highlight of the week'  
For many members, choir practice on Tuesdays is the highlight of the week. After very difficult working days, staff are quickly able to unwind as we work through our vocal exercises with our musical director. The opportunity to meet colleagues from other areas of the campus is often very beneficial in work related matters. New friendships are formed and our retirees can maintain a link with former colleagues. The opportunity to perform in prestigious festivals and venues has done wonders for individual confidence. The choir particularly loves performing for our patients, seeing first-hand the pleasure that it brings.
Terry Kiely, Choir Manager