Opportunity
Call for tenders: WHAT independent evaluation of Arts Programme in Renal Dialysis Unit at UHW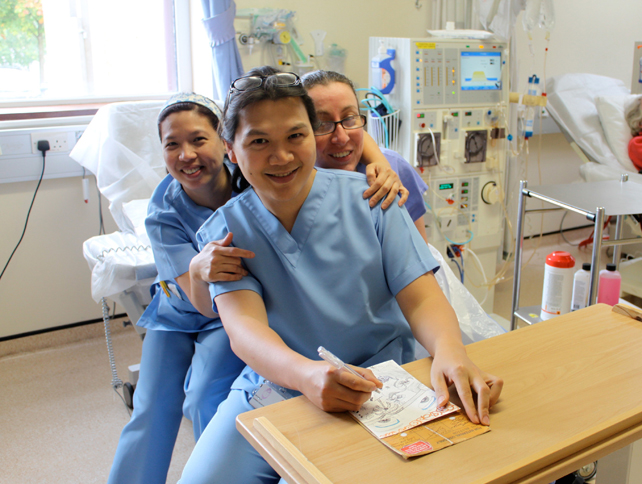 Waterford Healing Arts Trust (WHAT) wishes to commission an independent evaluation of its Arts Programme in the Renal Dialysis Unit at University Hospital Waterford (UHW), with a view to informing the next phase of the programme. Tenders are invited from suitably qualified and experienced candidates. 
The Renal Dialysis Unit at UHW is an 18-bed unit which accommodates approximately 90 chronic renal dialysis patients every week from the south-east of Ireland. Each patient attends for renal dialysis for 3-4 hours, usually three times per week. WHAT has been running an arts programme in the Renal Dialysis Unit since 2007. Artists work in the unit on a weekly basis, engaging patients in art making, including visual art, photography, writing and singing/music. The arts programme is funded by the Punchestown Kidney Research Fund and is supported by the staff members on the unit who are keen to provide positive, creative and diversionary activities for their patients.
To date, the programme has been evaluated on an ongoing basis through artists' reflective journals. The purpose of the proposed independent evaluation is to review progress made since the programme's inception, analyse models of working and make recommendations for future development.
The full brief can be accessed here: www.artsandhealth.ie/wp-content/uploads/2018/03/WHAT-Renal-Dialysis-Art-Programme-Eval-2018-Call.pdf
The closing date for submission of tenders is Thursday 12 April 2018. 
Waterford Healing Arts Trust (WHAT) is Ireland's leading arts and health organisation. Established in 1993, WHAT brings arts experiences to the bedsides of patients at University Hospital Waterford (UHW) and other healthcare settings. WHAT believes that the arts contribute to the wellbeing and vitality of society and that engaging with the arts stimulates the participant's sense of identity and creativity. WHAT also supports the development of arts and health in Ireland and manages the national website www.artsandhealth.ie
Further details are available from WHAT at www.waterfordhealingarts.com or 051 842664.