News
Spotlight: Sarah Cairns, Activities Co-ordinator at Bantry General Hospital

Sarah Cairns is the Activities Co-ordinator in St. Joseph's Unit at Bantry General Hospital, West Cork. The unit provides long-stay, respite, and palliative care to older people. In 2018, Sarah supported the development of Stories from the Well-Field, an interactive performance created by residents of St. Joseph's Unit in collaboration with artist Tess Leak, puppeteer Eoin Lynch and composer Justin Grounds. 
In 2019, as a member of the Well-Field Company, Sarah performed Stories from the Well-Field with her fellow company members for residents, staff, friends and family in St. Joseph's Unit and for a public audience in Uillinn: West Cork Arts Centre.
What does your role of Activities Co-ordinator entail? 
My role is primarily to care for our residents, taking our human fundamental needs into consideration. To connect with each resident who lives in St. Joseph's and link in with their daily lives. To support and provide ways for people to be independent and to flourish. To provide creative spaces to learn, explore, connect and belong. Keeping connected with our community can be difficult when moving into care, so I see my role as weaving our week with events, festivals and news from the locality and in-house daily rituals and activities with a focus on connection and meaning.
How did you become involved with Stories from the Well-Field and what was it like being a performing member of the Well-Field company? 
As an Activities Co-ordinator, I have the privilege of working with brilliant and inspiring artists who share and create work with older people / people living in nursing homes. Tess is one such artist who spent two years gathering and creating stories and poems with the residents in St. Joseph's. Through conversations with Tess the idea of the puppets expressing and revealing our stories took shape.
Being a member of the Well-Field Company and having the opportunity to create and perform together as a group was both exciting and humbling. The way the show was created, accessible to all our cognitive differences, meant that nothing more was required of us, only our unique selves. This was a shared beauty.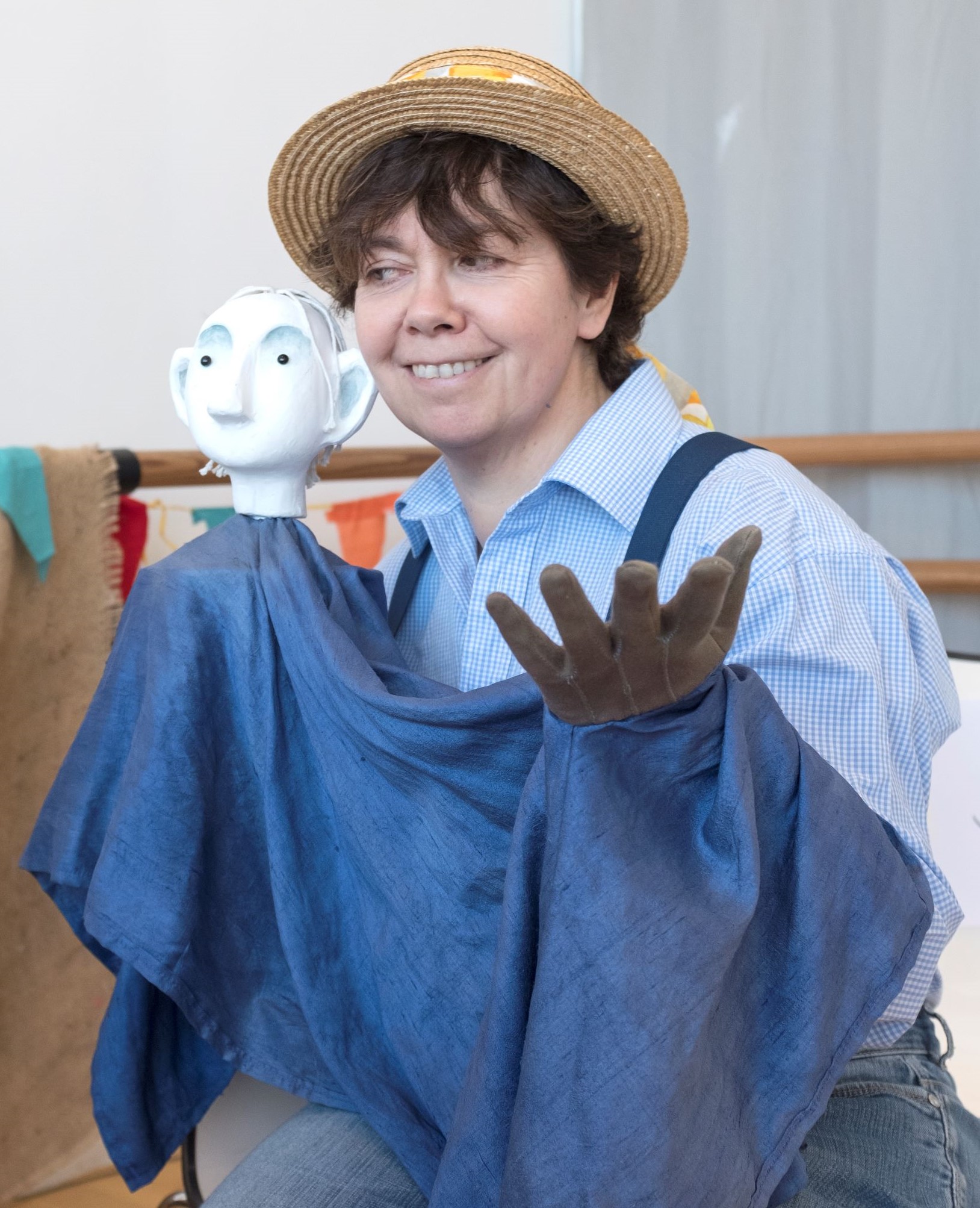 What do you feel were the key outcomes of the project for participants and staff?
As human beings we all need to feel useful, we need to connect, to belong and to create. I believe this project delivered all this in spades. These are things that are very hard to provide in care centres / residential care (even with the highest quality of best practice the medical model is still prevalent).
I had never performed before and was nervous about it, but there was a tangible atmosphere that we were all 'in it together'.
There was a real sense of excitement in our unit; residents were heard from their rooms in the evenings practicing their parts and songs in the lead up to our premiere of Stories from the Well-Field.
———————————
Stories from the Well-field is now a case study on artsandhealth.ie:
https://www.artsandhealth.ie/case-studies/stories-from-the-well-field/ ‎
An observational film by Sharon Whooley capturing the performance, funded through the artsandhealth.ie documentation bursary, can be viewed here:
https://vimeo.com/363098266