Poetry Prescriptions
Poetry Prescriptions: Artist poems from Tallaght University Hospital

Today is Poetry Day Ireland, where we celebrate not only the poems we love but the creation of poetry itself and the solace it can bring us.
The National Centre for Arts and Health at Tallaght University Hospital have compiled a selection of four poems under the Poetry Day Ireland theme of There Will Be Time.
'The Hurler' and 'No Smoke Without Smoke' are selected from The Healing Station poetry collection by Michael McCarthy during his TUH residency in 2012. Introduced and read by Rónán Collins, Consultant Geriatrician, the listener is transported to the time of narrative between the patient and healthcare practitioner. Interactions that highlight humour, memory and the challenges experienced during recovery of illness.
In 2019 TUH featured Sense of Place, an exhibition of artworks by Fergus Smith and Maeve Doyle. The artists differed greatly in style (examples of their work below) but interestingly, both incorporated poetry within their work. To mark Poetry Day 2020, TUH music therapist Clara Monahan accompanies the poetry readings with the addition of her own musical compositions to: Smith's 'Time – Memory – Space' and Doyle's 'Walk with the Earth'.
Both creative projects, McCarthy's poet in residence and Smith and Doyle's art exhibition, were supported by the Meath Foundation.
Michael McCarthy during the launch of The Healing Station remarked 'The residency at Tallaght University Hospital was a steep learning curve. To come as a writer in residence was a daunting challenge and it remained one throughout. However, the dedication and sheer skill of the staff at every level was inspirational. In an area where increments of improvements were often tiny, the dedication of the staff was awesome. The patient's resilience in the most trying of circumstances was both challenging and uplifting, I became fascinated by their struggle, and in my poems I tried to imagine their life before their illness and in some way wanted to give that life back to them. The poems all have an autobiographical element, although they are a work of the imagination'.
No Smoke Without Smoke
When she draws on it a bright red glow lights up
Like brakes coming on at night. 'My daughter got it for
me off the internet. It's very satisfying.
They don't allow you smoke the real ones in here.'
'Good morning Doctor,' she says, taking a good pull.
'Good morning Molly, and how are you feeling today?'
'Grand altogether Doctor.' She says, taking another pull.
'Did you think about what I said to you yesterday?'
'It's not on Doctor,' she says, shaking her head.
'Why is that Molly?' 'Because it's not to my liking.
I've always looked after myself, always minded
my own business, if you know what I mean.'
But he hasn't backed off. 'I know you're doing well,
but you're not ready to be on your own yet.'
She's pulling at it full throttle now, and thinking:
'there was a time I'd have this fella for breakfast.'
She's searching for a knockout punch. You can see
Its slow arrival light up her eyes and spread right across
her face as far as her ears. She takes a long relaxed pull
and settles into her chair. 'In any case, you're not my doctor.'
– Michael McCarthy
The Hurler 
His fingers are cupped to catch the sliotar in flight
the marks of the hurley still decorate his knuckles.
'How are ya today Tommy?' 'Great thank God'.
'Would ya walk down the corridor there for me?'
As he gets into his stride he straightens himself up
He can hear the Artane Boys Band ahead of him,
Any minute now he'll take his place at left wing back.
Any minute now the bishop with throw in the ball.
Tommy will be waiting for the high ones, make sure he gets it in first
Or if not, God help whoever does.
The All Ireland medals are great, but nothing touches the heat of battle
the scent of victory, the fear of defeat.
Last year in the Munster final he held Christy Ring to a single point
He was man of the match, ahead of Liam Devanney, Pat Stakelum and John Doyle.
The memories are what matter to him now,
They have seen him through some tight corners.
'You're walking straight as an arrow Tommy,
You can go on home as soon as you're ready.'
There'll be bonfires in Toomevara tonight.
– Michael McCarthy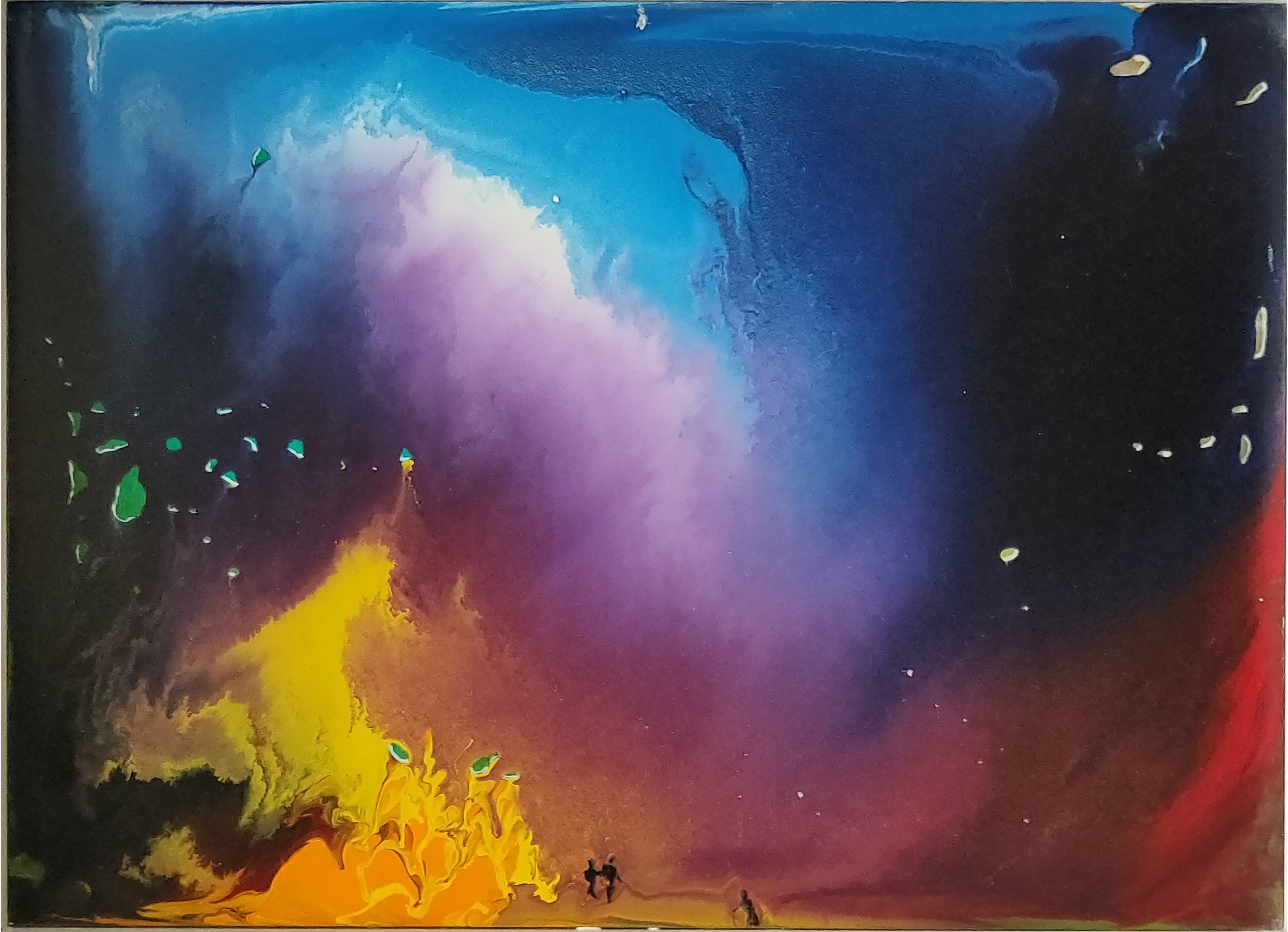 The Way by Fergus Smith
Fergus Smith is an artist living in Tallaght, Co. Dublin. Predominantly working with oil on canvas, Smith uses the genre of landscape to portray his experiential sense of memories. In his own words, 'Memories vague and uncertain, part forgotten, contaminated, not real; likened to the erosion of landscape, a slow deterioration over time'. Applying this method to his process results in experimental paintings which create the essence of another space, something almost lost, familiar yet elusive, indefinite but identifiable as: seeing shapes in clouds, seeing faces in inanimate objects or abstract patterns, or hearing hidden messages in music.
Time – Memory – Space
Painting pouring brushes knives,
sponges rags  whatever applies,
removing paint to redo,
linking layers the painting through,
underpainting part exposed,
like memories partly decomposed,
another link to time or place,
an eroded shoreline or  mountain space,
what was, what is, what might have been
within the paintings, is that theme.
– Fergus Smith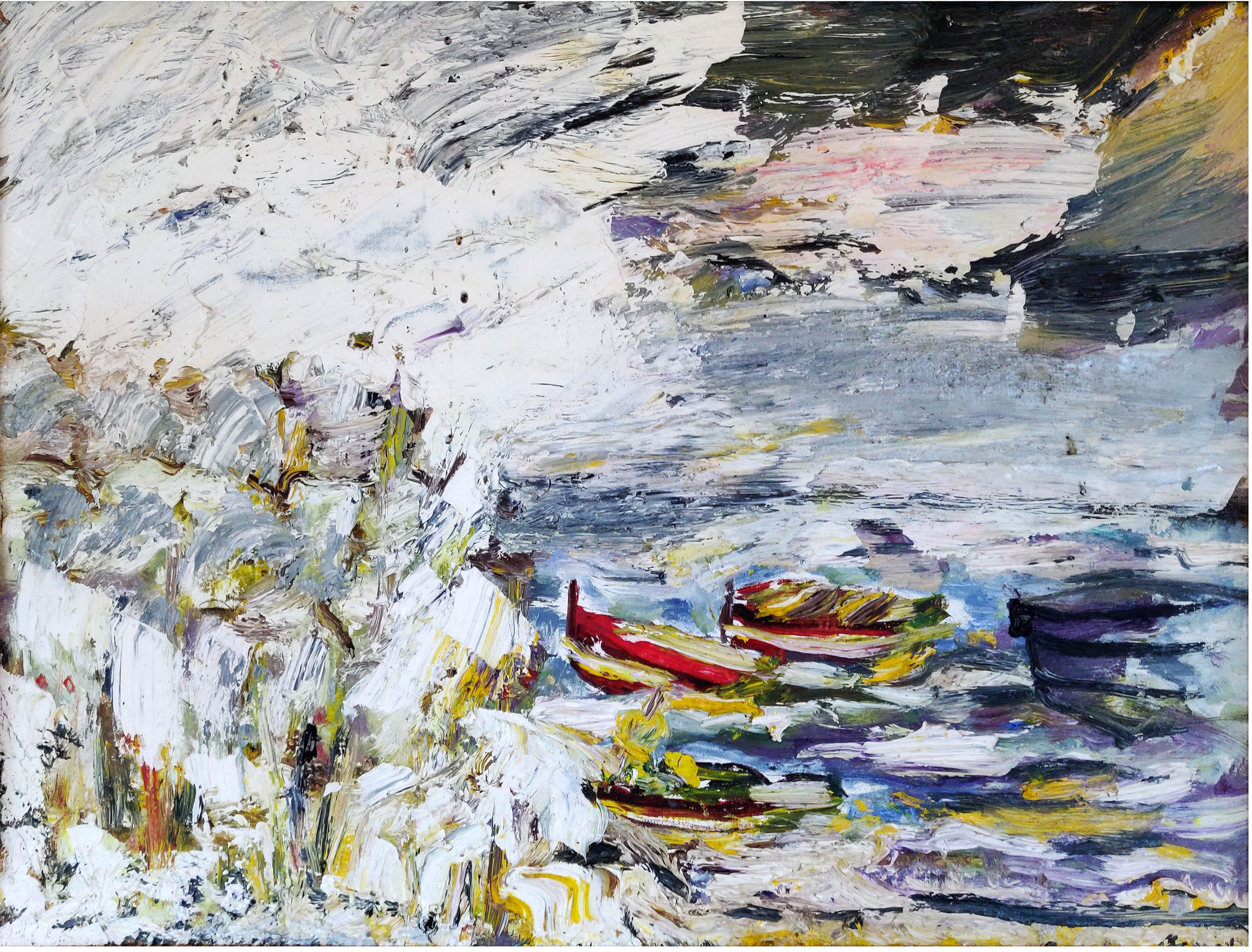 Bullock Harbour by Maeve Doyle
Maeve Doyle (by friend Helen Farrell)
Maeve spent most of her life living along the coastline of south Dublin. Born in 1958 the youngest of four children and only girl in the household, she studied Fine Art Painting in IADT. She was an extremely gentle and sensitive young woman who derived her inspiration from the natural world around her. At the opening of her solo show in Monkstown in 1985, Trevor Scott described her as a true working artist. Her paintings and her poetry were central to her existence, expressing herself in a free and fluid manner through these mediums. She died in 2008. With thanks to her custodians, brother Roland Doyle and friend Helen Farrell her artworks went on view again. Many of her artworks were kindly donated to the TUH Art Collection post exhibition in 2019.
Walk with the Earth
Walk with the earth my love
Stand in the sun
Tears but wash like rainfall
Hearts to truth will run
Rivers will tumble on stones my love
But there's soft sand in the sea
If we walk with the earth my love
We can dance like the trees.
– Maeve Doyle