Covid Chronicles
Covid Chronicles: Reinventing Community by Neil Black

Neil Black lives and works in Derry. He is a Consultant Endocrinologist in Altnagelvin Hospital, Western Health & Social Trust. He sings tenor with the Irish Doctors Choir.
Our choir has been together since 2017, originally formed for a single purpose, to perform Mahler's 2nd Symphony "Resurrection" in Belfast in November 2017. Singers gathered from all parts of Ireland, GB and even Germany. The choral section lasts a mere 15 minutes, but we spent workshops and then the rehearsal weekend concentrating on the meaning of the text, the vocalisation of vowels and consonants, rhythm, dynamics, and tonality over and over again. This was also the moulding of a new choir and infusion of the ethos of a foundation musical director. The orchestral performance was stunning, but it led into the most expressive quarter of an hour of singing that I have ever had the privilege to sing in. The intensity of orchestral and then choral expression was almost unbearable. The concentration, control, and strength of performance with the most excruciatingly emotive text brought tears into the eyes of more than a few singers at the powerful finale. It was a breathtaking experience. When it was done, members turned to each other and smiled and hugged. The sublime was an exercise in presence. We parted.
Since then, we have met up to several times per year, holding whole day and full weekend preparation workshops all over Ireland. We take time out of our busy working lives to immerse ourselves in the common aim of the performance and work hard. Brian, our Musical Director, thankfully is exacting and travels all the way from Portugal for each event. We have held rehearsal and performance weekends for Rachmaninov's All Night Vigil in Termonfeckin, Bach Cantatas and Motets in Dublin, and West Side Story and Rachmaninov's Three Russian Songs in Cork. We have also performed at conferences in Dublin and Belfast, held pop-up performances at hospitals and a group of us joined other choirs to sing Mahler's 8th Symphony with Cambridge Philharmonic Orchestra at Ely Cathedral. It has been an active three years for a choir which is not based in one rehearsal location, who meets only for events and has held its committee meetings online from the start. Each event is a learning experience and a sharing of presence.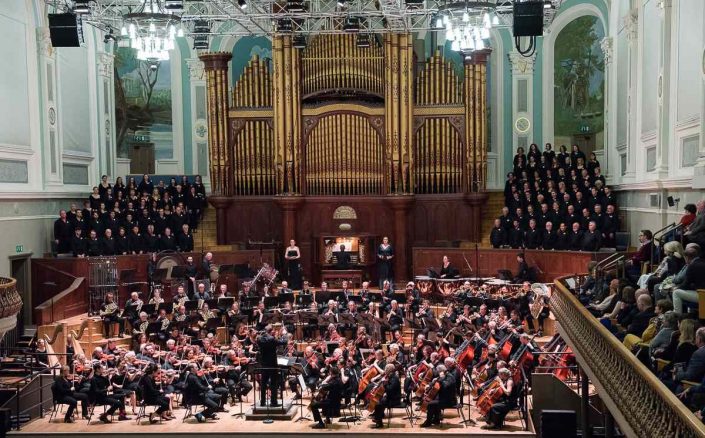 Performance on Sunday 26 November 2017 in the Ulster Hall, Belfast with European Doctors Orchestra, singing Mahler's 2nd Symphony "Resurrection" in aid of ArtsCare Northern Ireland and The Pushkin Trust.
We began as a scattering of people from across Europe, centred on Ireland, mainly practicing and retired doctors but also medical students. We have ended up a community of singers looking forward to our gatherings. Members go based on their availability, adding to a faithful core. People travel to be together and greet each other with affection when they meet again. Every member brings a smile to every other. We follow our day-long rehearsals with social time. We part with the promise to meet again, to be present as a choir again.
Our committee has always met online, living and working in such widely spread places as Belfast, Cork, Derry, Dublin and Galway. Our plans extended through to late 2021 and were thrilling. On our first workshop this year in January in Dublin, we did not know how events would develop but were aware that our planned activities in the coming months could be at risk. Little did we realise then that total cancellation of our events would be needed, and we still do not know what the rest of the year could hold. The locality-based choirs of home for each of our singers were also suspended.
This was when the direction changed, inspired by Brian himself. A pilot group met online for a few rehearsals. We brought the choir together as we learnt, with nearly 50 members in the first rehearsals. The rehearsals were vastly different from our usual experience; they were much more socially limited, with each us of alone in our homes, concentrating on the Musical Director and accompanist; as individuals singers, we had no immediate feedback from the MD. This last point was crucial, as every MD uses their keen ear to sense tone, rhythm and dynamic and gives the whole choir, subgroups and individuals valuable verbal and non-verbal feedback with immediate effect to the singers and plays on verbal and musical examples and analogy to explain themselves. The MD was greatly constrained by this lack of two-way communication. The relationship between an MD and their choir is a microcosm of the wider fundamental human need for community and relationships; it is visceral.

The Irish Doctors Choir perform in the Aula Maxima, UCC, Cork on Sunday 24 November 2019 in aid of the Mercy University Hospital Foundation. Photo credit: Darragh Kane.
It takes a very different approach to make up for this: putting into play the lessons that Brian had picked up from last week's recordings; making sure that you can hear your own voice to allow self-tuning; listening to those oddly nervous rehearsal self-recordings before the next session to correct the mistakes. Music itself is visceral. Listening to the accompaniment and taking in the lyrics and concentrating on your own sound brings the singer into a presence shared by the other singers and the MD. 'Feeling' the note is a term Brian used recently, as in programming the note into automatic recollection, but it is more – allowing a deep connection to develop, feeling 'present' even when miles apart.
So, what of the social? In our previous rehearsals, we were always arranged in a U-shape around Brian. I liked to look across at each of the singers to catch an eye and make them smile, acknowledge them and connect. Online, I found myself doing this again. I listened as each singer introduced themselves and watched their faces as we sang, I wondered what each person was going through, hidden behind the image, what they feared and had experienced in their daily life during this awful pandemic. As the rehearsal went on, we could see each other's effort and smiles. The social was still there. I felt present.