News
A summer of reimagining arts in healthcare
The challenge of safely reimagining arts engagement in healthcare environments, and doing so in a way that aids meaningful connection, remains a key preoccupation for the arts and health community during the Covid-19 pandemic. The summer of 2020 has brought new creative experiences and adaptions of long-established programmes to hospitals and community health settings across Ireland.  
The Great Outdoors 
The vagaries of the Irish summer notwithstanding, engaging at a distance has often meant bringing the arts outdoors. Waterford Healing Arts Trust hosted a series of live music sessions in the grounds of University Hospital Waterford through its Healing Sounds Outdoors programme as well as several Iontas Arts and Mental Health Programme sessions in the grounds of community settings.
Kids' Classics brought live music performances to outdoor settings in eight nursing homes across Louth, as part of the Music in Healthcare programme led by Louth County Council Arts Office.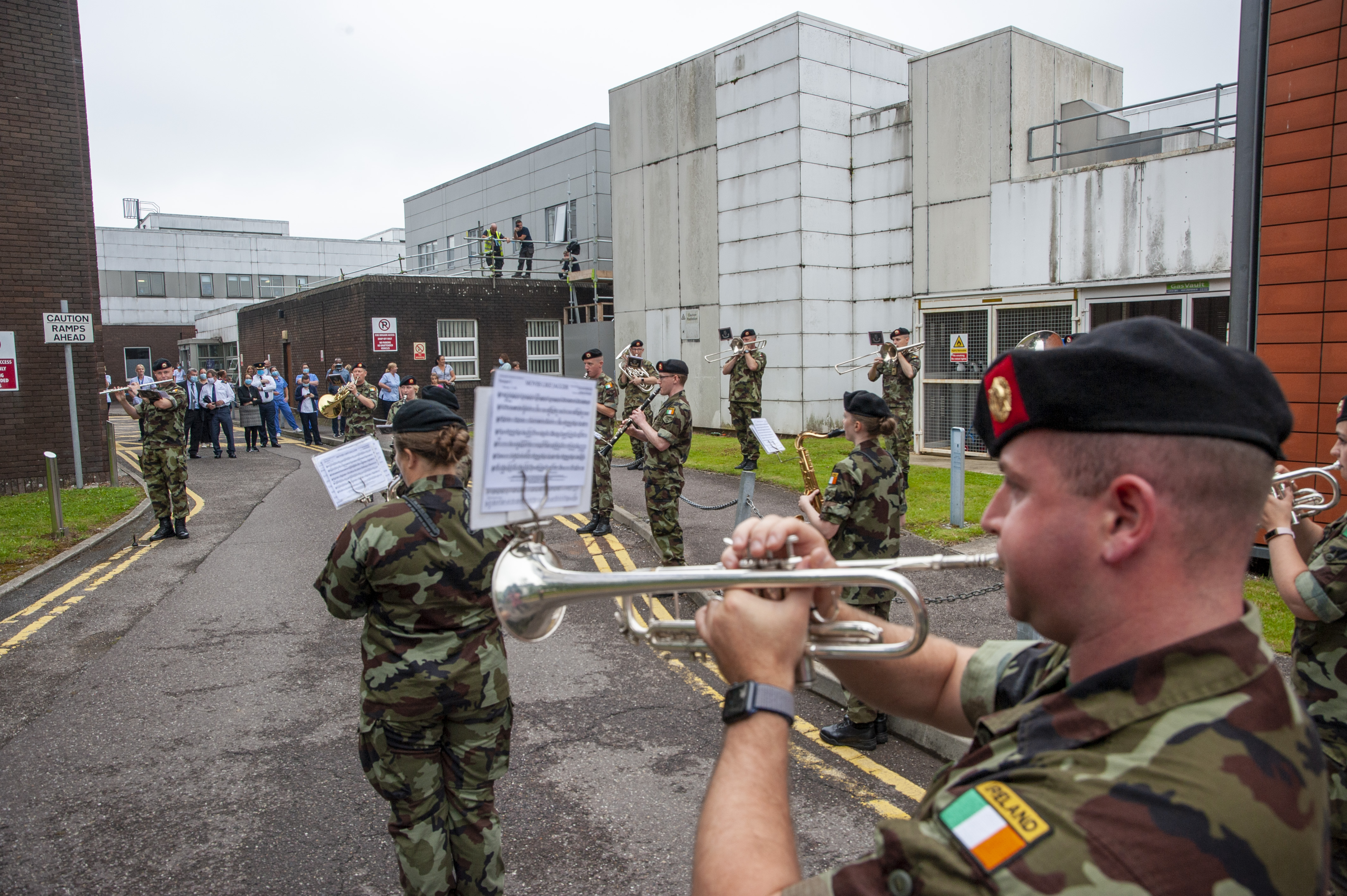 The Defence Forces Band performs at Cork University Hospital. Photo credit: Daragh Mc Sweeney
In late August, the Defence Forces Band, conducted by Captain Brian Prendergast, entertained patients and staff at Cork University Hospital. To ensure that patients and staff got to enjoy the recital, the band played at three different outdoor locations on the CUH campus.
Sing Me to the Sea, Anna Newell's magical watery adventure for children with complex needs, has been adapted as a 'dry land' version. Performed in family gardens and driveways, the production toured in August to Wicklow, Dublin and Kildare in collaboration with Mermaid Arts Centre, The Civic and Riverbank Arts Centre.
The New Indoors 
The National Centre for Arts and Health at Tallaght University Hospital has designed and produced a series of art packs for patients called ARTS4ALL with the hope of encouraging creativity, self-expression and easing boredom. Waterford Healing Arts Trust has also created a new art resource pack, In Your Own Time, with artist Caroline Schofield for patients in Renal Dialysis at University Hospital Waterford (UHW).
Environmental enhancement initiatives have always played a central role in bringing beauty and wonder to clinical settings and none more so than now, when traditional means of collaboration between artists and healthcare users are no longer possible. The exhibiting of new work for hospital communities is gradually coming back, with Life of Objects by artist Lucy Turner currently on display at Tallaght University Hospital and Anne McLeod presenting a solo exhibition at UHW in October, as this year's A Better Place artist.
Kids' Classics musicians have adapted their indoor music sessions for children in hospital in line with Covid-19 protocols. This August they brought live music to children in Cork University Hospital and Our Lady of Lourdes Hospital Drogheda as part of their Music in Children's Hospitals partnership with the National Concert Hall.
Going Remote
The Arts for Health Partnership Programme in West Cork proved to be an early adaptor to remote ways of working with the innovative Museum of Song Postal Project. In June, Arts for Health artist Sarah Ruttle began a new project in four community hospitals with eleven residents. For Time in Our Lives, Sarah has created handmade artists books to inspire and guide the residents in their own creations to mark this challenging and unique time in our lives.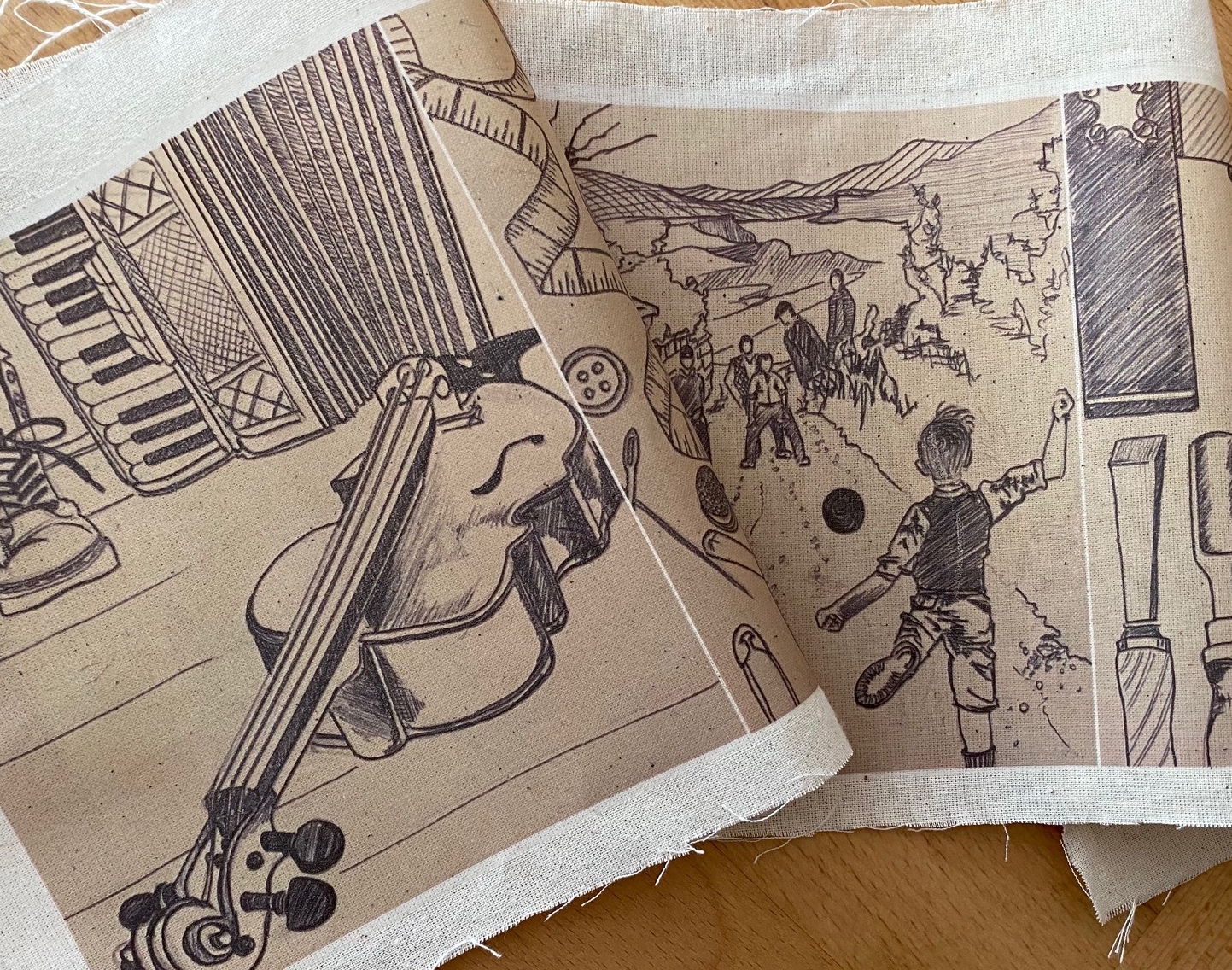 Time in Our Lives by Sarah Ruttle for the Arts for Health Partnership Programme
49 North Street is a dedicated space in Skibbereen for creativity, recovery and wellbeing. For Tune In, the North Street community has been invited to create a collective response to the changing times though home recordings, making sounds/music using their bodies, found objects and instruments. This collaboration with The Happiness Ensemble, filmmakers Aoise Tutty Jackson and Maggie Ryan and composer Liam McCabe will result in the work being collated into two short films.
WHAT has adapted its Arts Programme in Renal Dialysis at UHW, with artist Philip Cullen and Assistant Director Maeve Butler now working with patients remotely – via video calls, telephone calls and email. WHAT is also bringing Open Gallery, its dementia-inclusive art viewing programme to the online space, hosting sessions via video call with a local nursing home in Waterford.
The National Gallery of Ireland has been providing dementia-inclusive sessions on site and in the community over the last five years. Their new in-home resource enables people with dementia and carers to enjoy art within their own home.
Helium Arts has been keeping creativity and connection alive for children and young people with long-term health conditions during times of social distancing. Their Distance Creates programme of home-based creative activities is delivered by artists Ciara Harrison and Chelsea Canavan via postal surprises, video demos, pen pal collaborations and virtual sharing.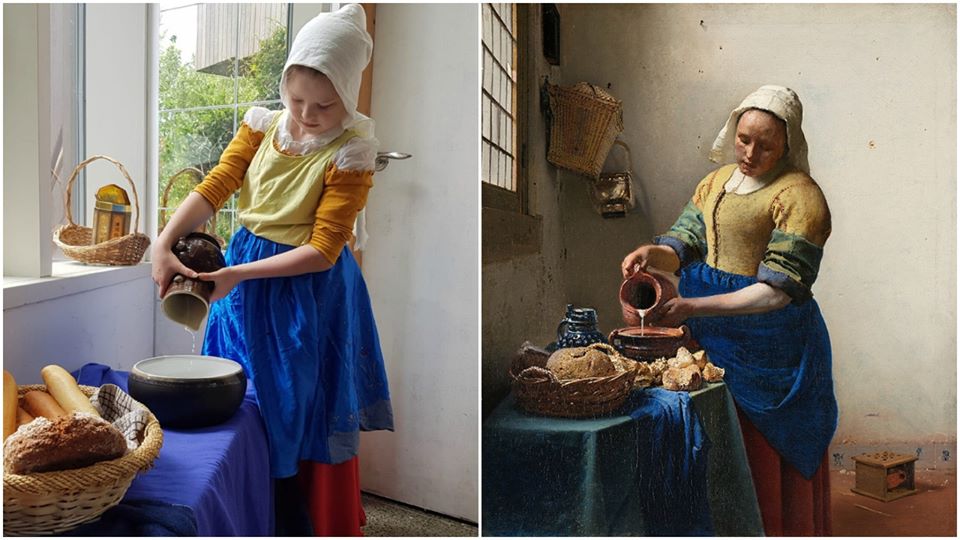 Vermeer's The Milkmaid: Recreating masterpieces on Helium's Distance Creates programme
Following the success of The Poetry Line for Poetry Day Ireland in April, the initiative ran again in June in partnership with Poetry Ireland, members of Aosdána and ALONE. Individuals who were cocooning and carers signed up to receive a phone call from a writer/artist who then read them two reassuring and uplifting poems. This initiative aimed to provide connection through poetry during the lockdown period.
Across the board, Covid-19 severely impacted the process of delivering the arts service in Tallaght University Hospital. The National Centre for Arts and Health at TUH responded by creating a wealth of audio/visual content over the past number of months to provide a source of relaxation, entertainment and enjoyment for patients and staff during these difficult times. All content can be accessed on the TUH YouTube channel in specified 'Playlists' containing over 20 videos. The playlists include Sing with Me, Relax with Me, Poetry Day Ireland 2020, Heartbeats-TUH Choir, Sing While You Can Singers and the Leinster String Quartet.