News
artsandhealth.ie announces 2021 bursary award recipients

The artsandhealth.ie bursary award 2021 was offered to artists working in participatory arts and health contexts to reflect on their practice. We are delighted to announce the recipients of this year's bursary: visual artists Ciara Harrison and John Conway, and songwriter and musician Sadhbh O'Sullivan.
The artists will share learning arising from the bursary with the wider arts and health community via the national arts and health website in early 2022.
The artsandhealth.ie bursary 2021 is funded by the HSE and the Arts Council.
Ciara Harrison  

Featured image: Wild Thing (you make my heart sing), Ciara Harrison, Artist in Residence, Waterford Healing Arts Trust, 2017. Photo credit: Keith Currams.
Visual artist Ciara Harrison has been working in the area of participatory arts and health since 2017, when she was awarded an artist residency with Waterford Healing Arts Trust at University Hospital Waterford (UHW). She engaged with short term and long term stay patients in the hospital as well as healthcare staff and the wider hospital community. The residency gave her the opportunity to develop skills in participation, facilitation, partnership building, outreach, access and reflection within an arts and health context, together with a greater understanding of the nuances and complexities of working creatively in a healthcare setting.  Subsequent arts and health experiences include working with children, young adults, older people and vulnerable adults in different settings and with a variety of organisations including Helium Arts and Age & Opportunity.
Ciara is interested in creative interventions in non-formal art settings, creating encounters where tea, biscuits, play, craft and other domestic processes act as prompts for collaborative curiosity, conversations and exchanges of ideas. In 2020, she received a Professional Development Award from the Arts Council to engage a mentor, Marielle MacLeman, to examine her participatory arts practice to date.
Drawing on four years of practice employing collaborative and participative methodologies, Ciara will reflect on the complexities and nuances of negotiating / fostering a safe space for participants when working in an arts and health context, both in person and online. She will interrogate how one creates a safe encounter with participants in an unfamiliar space such as the hospital bedside, considering the variables, the unknowns and the uncontrollables in a healthcare setting. How do an artist and participant enter this unfamiliar space and create parity, trust, warmth, curiosity, conversation and safety?
Ciara will also reflect on our subjective and emotional relationships with objects and personal effects and their ability to serve as vehicles for negotiating, materialising and navigating relationships. She will consider the use of objects as a medium to bring meaning and an enriching experience to a participant encounter and to act as embodiments of emotions and vessels in recalling memories and stories.
John Conway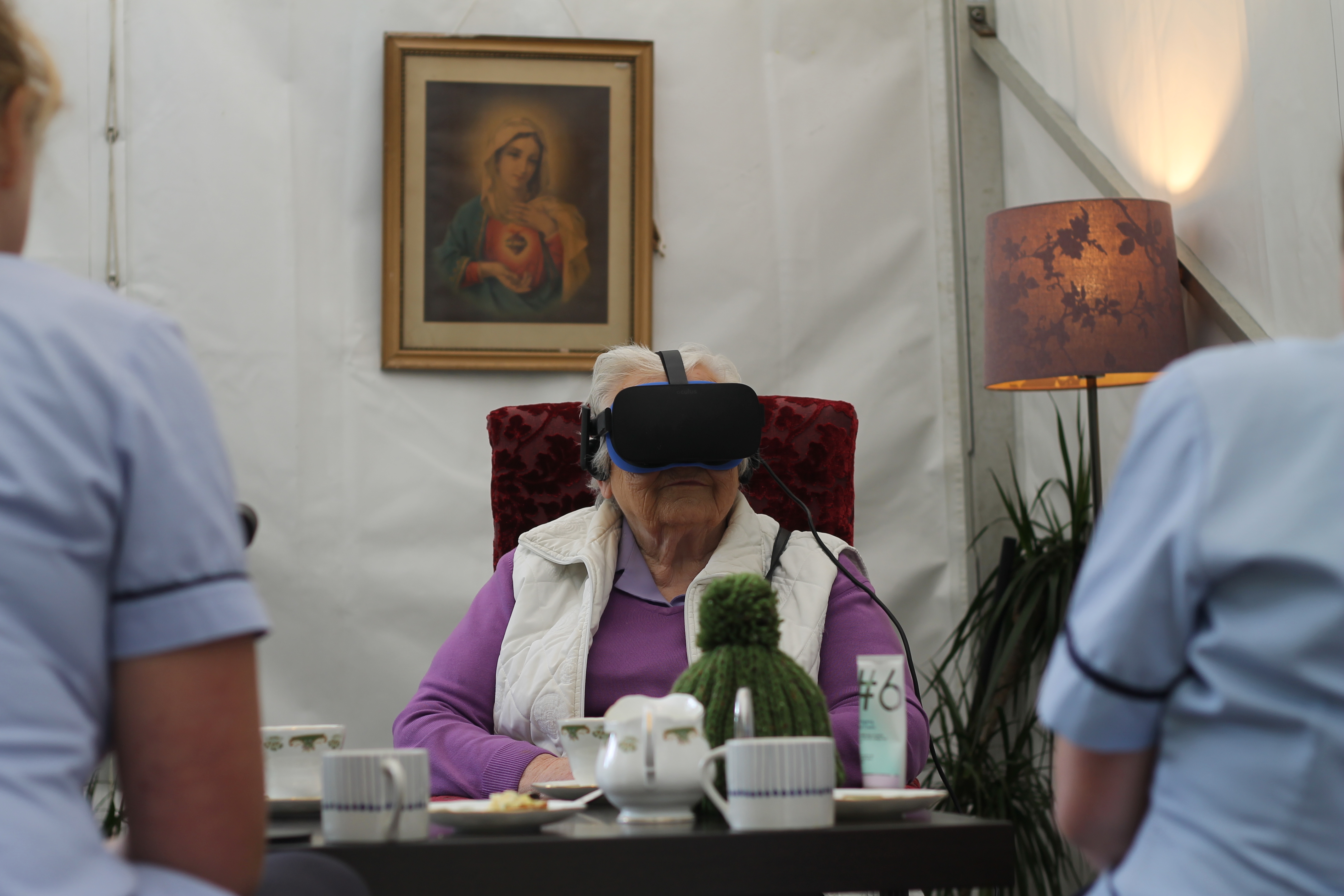 Featured image: John Conway, Ballad of a Care Centre
John Conway is a visual artist working extensively with health-related communities of interest and in healthcare settings. He has devised and delivered numerous boundary-pushing art projects in a wide variety of health fields including oncology, forensic mental healthcare, geriatrics, paediatrics and – in an upcoming commission with parents of children who attend LauraLynn Children's Hospice – children's end of life care.
John's work is often informed by socially engaged research with target communities – particularly having discussions over tea – and seeks to challenge target communities' understandings and expectations of visual arts. He is the Director of Other People's Practices, an artist residency and research project that supports the production of collaborative, socially engaged projects with patients of the National Forensic Mental Health Service.
John is coming to the end of a demanding and prolific period of work on multiple socially engaged art projects, including The Ballad of a Care Setting, a cutting-edge theatre work for older people which uses motion capture and virtual reality to create a new narrative with their collective oral histories, funded by Brightening Air | Coiscéim Coiligh,Kildare County Council Arts Service and Creative Ireland, with support from Riverbank Arts Centre. He has also been adjusting his career as the parent of a 20 month old girl; splitting his time equally between coparenting and working.
He would like to make a space to pause and reflect on the delivery of these projects, particularly the deeply sensitive subject matter involved in working with parents whose children attend LauraLynn. He sees this as a little bit of self-care but also a crucial point where he can assess the trajectory of his career, potential future choices, and how to continue to succeed. He acknowledges that his current way of working is not sustainable: What are the next critical steps and career decisions that reflect the actual workload associated with a parenting artist and how to secure continued development?
Sadhbh O'Sullivan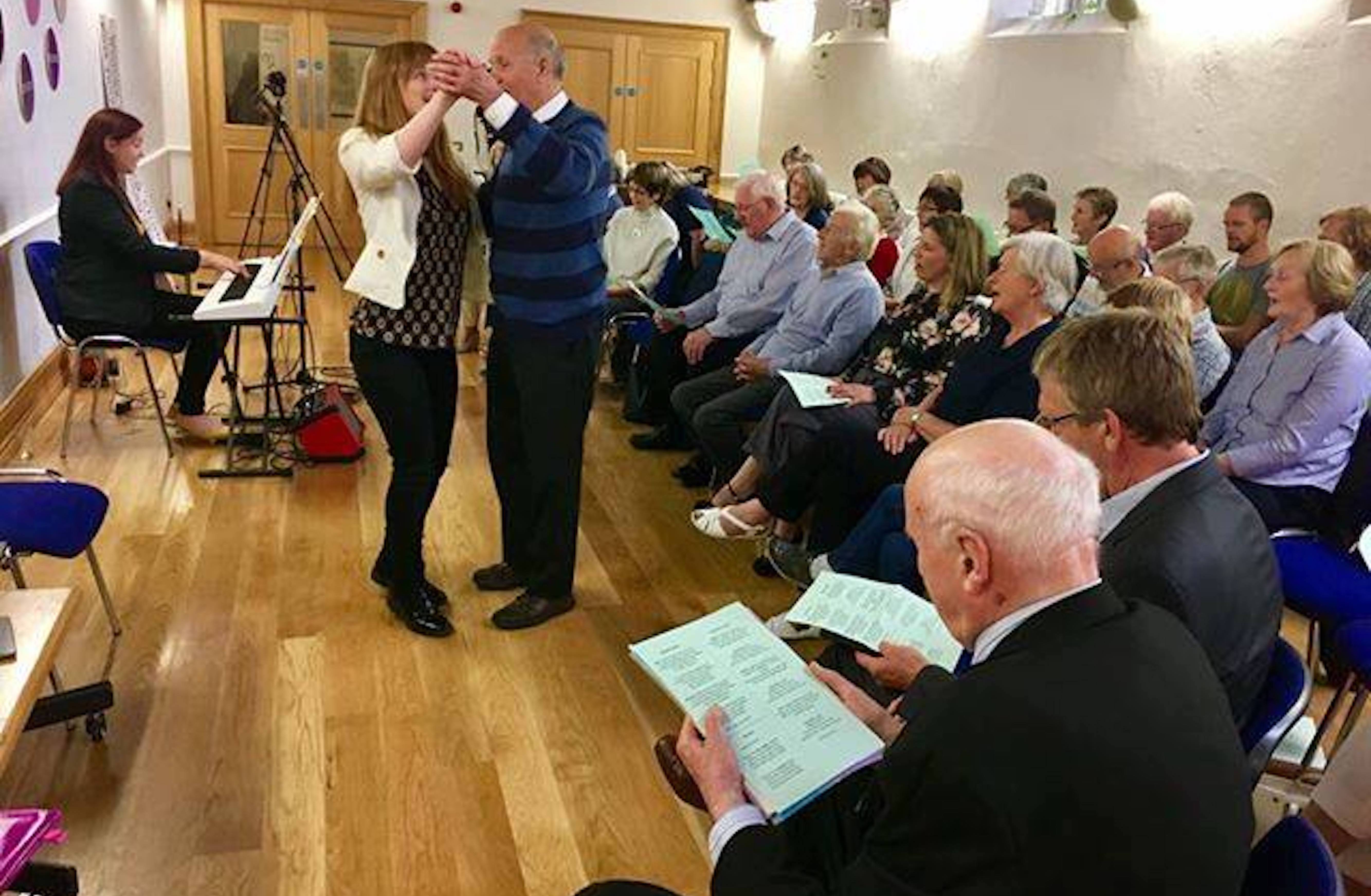 Featured image: Sadhbh O'Sullivan dancing with a member of Past Times Community Choir during a collaborative event with Voices of Spring at McAuley Place in Naas, Kildare. Photo by Tracey Keogh.
Sadhbh O'Sullivan is a songwriter, musician and arts in health practitioner based in Co Kildare. She is currently musical director of Voices of Spring and assistant director of Past Times Community Choir, two dementia-friendly projects supported by Kildare County Council Arts Office. In 2019, in conjunction with KCC's Arts and Wellbeing Officer, she piloted the first music programme at Naas General Hospital, which is due to recommence once restrictions allow. Sadhbh is also resident musician in local healthcare settings, most regularly Naas Care of the Aged.
In March 2020, Sadhbh co-founded Embrace Music, an arts and health initiative with the aim of providing far-reaching opportunities for meaningful musical engagement. Throughout Covid Embrace Music provided almost 50 livestream music sessions for nursing homes, home carers and older people across Ireland.
This past year has required Sadhbh to make shifts in how she approaches her professional practice. As someone who currently works primarily with the older population, it has been challenging to bring people along and help them to stay connected with arts participation. However, Sadhbh has also seen that there are many benefits to facilitating creativity in the online space, and would like to explore ways of growing this element of her work. The past year has also afforded Sadhbh opportunities to undergo online training in trauma informed music facilitation (Voice Workshop UK) and singing for lung health and breathing (The Musical Breath UK).
Sadhbh's enquiry and reflections will focus on the application of trauma-informed and breath-led approaches to participatory music-making and the creative potential of her practice for participants, including an exploration of a blended approach of in-person and digital engagement in a post-Covid world.