News
THE SINGING BODY: Personal Reflections on an Arts & Health Practice by Sadhbh O'Sullivan

Sadhbh O'Sullivan's music in healthcare journey began during a Training Notes course in 2013. Connecting with older people in Navan General Hospital and Beaufort Nursing Home, the Kildare-based songwriter and musician learned another musical vocabulary, one that put the person at the heart of the process, that was sensitive to the experience of people living with dementia (the need for more eye contact, appropriate pacing), that could shape a sense of community among people who 'may have felt left behind by the world outside the walls of what had become their home'.
Over eight years later, Sadhbh is now musical director of Voices of Spring and assistant director of Past Times Community Choir, two dementia-friendly projects supported by Kildare County Council Arts Office. She has been a resident musician in local day care centres and nursing homes, and piloted the first music programme at Naas General Hospital.
In 2020, Sadhbh co-founded the social enterprise Embrace Music with fellow music in health practitioner Sharon Murphy, with the aim of providing far-reaching opportunities for meaningful musical engagement. Throughout Covid, Embrace Music has facilitated almost 50 livestream music sessions for nursing homes, home carers and older people across Ireland.
Sadhbh was awarded an artsandhealth.ie bursary in 2021 to reflect on her participatory practice, which has led to the creation of a short digital publication: THE SINGING BODY: Personal Reflections on an Arts & Health Practice.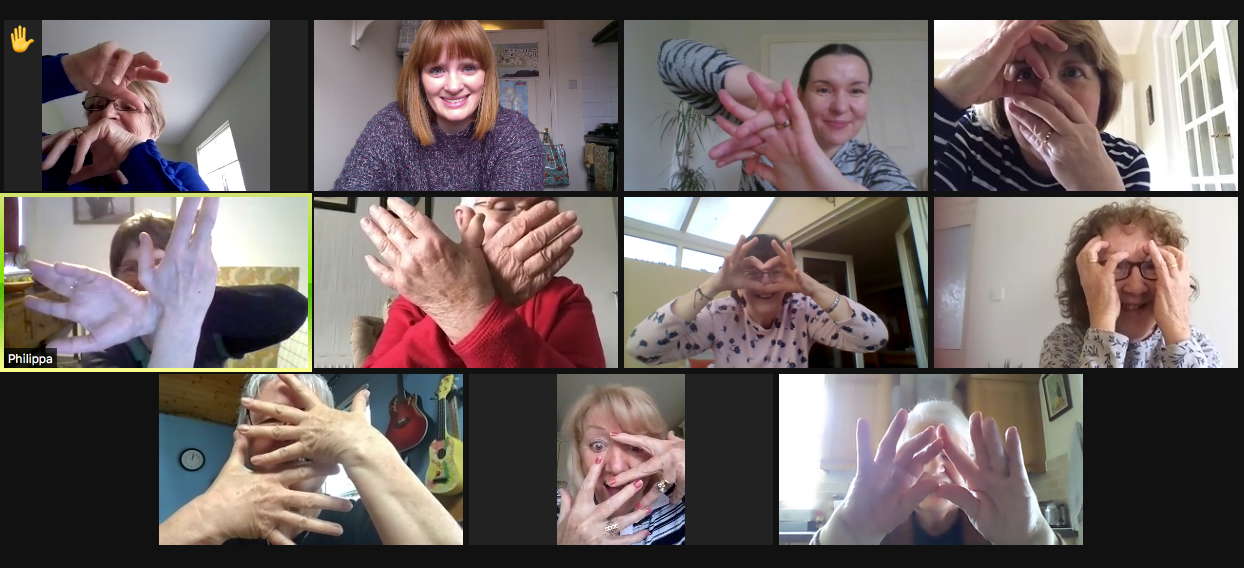 Members of Voices of Spring with Sadhbh and dancer Philippa Donnellan on Zoom, March 2021.
Seen through the lens of the current pandemic, Sadhbh's enquiry addresses the shifts in practice required to engage the older population in music and song-writing experiences, exploring both the challenges of building relationships with healthcare communities during a time of crisis, but also the positive impact of providing older people 'with a stronger sense of connection with the outside world' at a time of profound isolation.
For Sadhbh, the past two years have also brought opportunities to explore areas of growing interest to her. Sha has undertaken online training in Singing for Trauma and Mental Health with Emily Foulkes (Voice Study Centre UK) and Singing for Lung Health (The Musical Breath UK).
'What has become increasingly obvious to me as I have grown and learned from my own experiences is that singing doesn't happen in isolation. How our voices feel and sound doesn't come down to vocal technique alone but to a myriad of factors such as our overall physical and mental health, how we feel in our bodies, any trauma or grief we might be carrying, and the stories we tell ourselves – or have been told by others – that shape our beliefs about ourselves and our musicality.'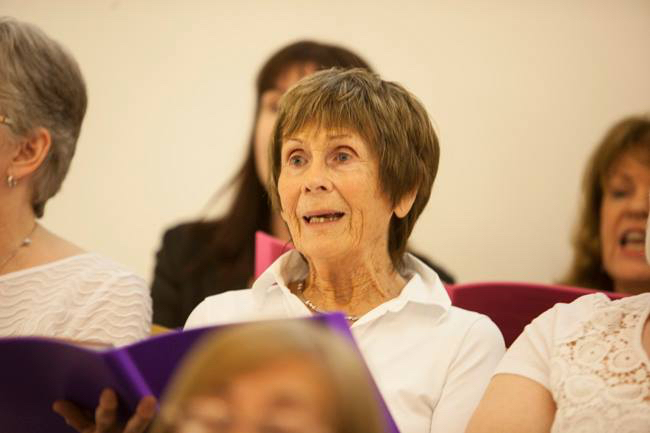 A member of Voices of Spring singing at Arts & Dementia: A European Perspective, 2017. Photo courtesy of the Butler Gallery.
Sadhbh's reflection is informed by her recent training, the expansion of her practice to encompass movement, the body and breath (she is a trained yoga teacher), her work exploring the lived experience of loss with the Irish Hospice Foundation, and her own 'personal inquiries into vocal pedagogy, the nervous system, and various somatic practices'.
It is the shaping of a holistic music and health practice that includes many valuable insights into facilitation techniques, the application of breath-led approaches to participatory music-making and the development of a trauma-informed and grief-sensitive practice.
'These areas of interest will be lifelong learning paths for me, and this reflection is likely to be the tip of the iceberg; an opportunity to gather what I have learned and explore how it might continue to shape my practice in future.'
Read Sadhbh's reflection here: http://www.artsandhealth.ie/wp-content/uploads/2022/01/The-Singing-Body-by-Sadhbh-OSullivan-2022.pdf
The artsandhealth.ie artist bursary 2021 was awarded to artists working in participatory arts and health contexts to reflect on their practice. The bursary was funded by the HSE and the Arts Council.