Join us on 28 June for an online conversation exploring arts for children in healthcare contexts. Sarah Fuller and Yvonne Cullivan, Artists with Helium Arts, will discuss their experiences of working with children and young people through the arts in healthcare settings in Galway. In particular, the artists will reflect on engaging in three specific spaces: by the bedside in Inpatients, in the waiting room in Outpatients and in the community through Helium's Creative Health Hub Programme.
All of the engagements reflected upon will be within the context of the pandemic – spanning pre, mid, and post-pandemic. Through a combination of imagery, conversation and an inclusive activity with the audience, the artists will cover aspects of working creatively within health contexts. These will include materials and methods of engagement, challenges and supports within the three specific contexts, and particular moments of light, when the artists witnessed connection and agency ignite in participants during their presence.
Helene Hugel, CEO of Helium Arts, will preface the conversation with an outline of Helium's mission, aims and programming. Ashleigh Ellis, Artist with Helium Arts, will provide musical accompaniment at various points during the talk. A guest speaker will give an alternative perspective on Helium's work. There will be time for questions and answers.
This is a free, lunchtime conversation taking place online via Zoom. Advance booking is essential via Eventbrite. Live captioning will be provided.
About Helium Arts 
Helium Arts is an award-winning children's arts and health charity that aims to improve the personal, health and social outcomes of children and young people with underlying or complex medical conditions by providing opportunities for creativity that they may not otherwise have access to. Through a series of arts-based workshops, Helium creates safe and inclusive spaces that inspire creativity, spark friendships, and improve mental health and wellbeing.
In Ireland, there are 120,000 children and teenagers living every day with long-term effects from medical conditions. Helium Arts brings positivity to these children's lives through participatory arts programmes, which take place in hospital, health and community settings. Helium Arts empowers these children through creativity and the arts, giving them the opportunity for connection, belonging, imagination and joy. Since its establishment in 2010, Helium Arts has worked with over 5,000 young people across Ireland. Further information is available at www.helium.ie or by following Helium Arts on social media: @HeliumArts.
Helium Arts' national Creative Health Hub Programme is supported by the Creative Ireland Programme, the Department of Health, the HSE, and the Arts Council.
The Arts and Health Conversation Series 2022 is produced by artsandhealth.ie and funded by the Arts Council and the HSE.
Biographies
Helene Hugel is CEO and Artistic Director of Helium Arts. She was co-founder of the award-winning Puca Puppet Theater Company until 2002. As an individual arts practitioner, she was awarded multiple Arts Council grants and bursaries between 2002 and 2008 to develop her practice working with children in hospitals. She is the recipient of both a Level 1 and Level 2 Social Entrepreneurs Ireland Award. In 2009 she founded Helium Arts to provide a structure for collaborating with other artists and healthcare practitioners to extend the impact of arts and health practice to more children and young people living with illness across Ireland.
Yvonne Cullivan is a multidisciplinary visual artist experienced in studio practice, participatory and public art, art in education, curation and consultation. She uses a wide range of processes in her work, including conversation, photography, video, sound, drawing, mapping and text. Yvonne often works with communities of people, in particular places of interest, involving individuals of all ages and expertise in her creative process. She draws on history, culture, landscape, storytelling, and community for information and inspiration. Yvonne teaches at the National College of Art and Design and works with Helium Arts and as a Creative Associate on the Arts Council's Creative Schools Programme.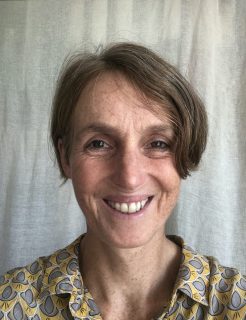 Sarah Fuller is a visual artist and puppeteer and founding member of Dog and String Theater. She is committed to making work for children's audiences in many forms and has years of experience working as an artist in schools and health care contexts with people of all ages and abilities. A large percentage of her practice is collaborative or involves a participatory process, incorporating, drawing, illustration, puppetry, animation, and storytelling. She holds a BA, Hons. in Textile Design and an MA in Visual Arts Practice. She is a Creative Associate with the Arts Council's Creative Schools program and Associate Artist with Kids' Own Publishing Partnership.
Ashleigh Ellis is a multi-disciplinary artist passionate about process-led art, making art in / with nature and drawing as meditation. She graduated from Crawford College of Art and Design in 2011 and completed a MEd with the Open University in 2017, researching young artists' identity and self-esteem. She has ten years experience teaching the arts in alternative settings and was a residential Art Teacher in the UK for four years in an international school where she developed inquiry-based, multidisciplinary curriculum, taught Human Ecology, and was a Curriculum Coordinator. She is also very talented on the harp!