Dance artist Ailish Claffey is leading a series of free dance workshops promoting brain health for older residents of county Kildare, especially those living with dementia. Family, carers and healthcare workers are welcome to join these gentle, fun workshops.
Taking place on Tuesdays on 22 and 29 November, and 13 December, at The ACRE in Celbridge, each workshop will be followed by tea and coffee.
These workshops are funded by Kildare County Council Arts Service's Arts, Health & Wellbeing programme and the Arts Council and supported by The ACRE Project's Dance Artist-in-residence programme.
Book your place
Places are limited. To register and for further information email ailishclaffeydance@gmail.com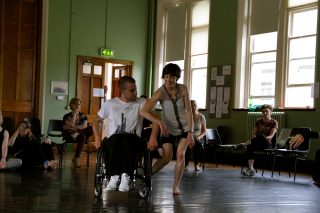 Ailish Claffey
Ailish Claffey is a dance artist, choreographer and curator based in Kildare. Ailish has worked with diverse groups within the community, developing her co-creative and Dance for Health practice. Exploring the complexity of human relationship and examining the lived experience of those she works with lie at the heart of Ailish's choreographic work. Ailish is the recipient of the inaugural Artist in Residence programme at The ACRE Project, Celbridge, a partnership with Kildare County Council Arts Service.