I brought the dream of flying… is a new exhibition by artists Corina Duyn and Caroline Schofield at GOMA Gallery of Modern Art, Waterford. Inspired by a broken-winged bird puppet which accompanied Corina when she moved to full-time nursing home care in 2021, the exhibition features work made in response to this move and illustrates the new collaborative creative process Corina has developed with Caroline as a result of her increasing disability. The exhibition is presented by Waterford Healing Arts Trust and GOMA, with funding from Creative Waterford.
A short tour of the exhibition, led by artist Pascale de Coninck, will take place on Saturday 14 January at 2pm (booking essential as places are limited, email gomawaterford@gmail.com). This will be followed by the official opening at 3pm.
For those who cannot attend the exhibition opening in person, a livestream of the event will be available to view from 3pm on Saturday 14 January on the GOMA YouTube channel and will remain accessible online after the event.
Exhibition Background 
Artist, writer and puppet designer/maker Corina Duyn has been making puppets since her first rag doll, at the age of 10. She became ill with Myalgic Encephalomyelitis (ME) aged 36. The increasing limitations imposed by her illness took an increasing toll on her daily and creative lives and, having finally accepted that she could no longer live independently, Corina moved to Signacare Nursing Home in Waterford last year, aged 59.
Realising that she needed to take action to somehow maintain her creative spirit, Corina issued a plea to her friends and contacts to help her to continue her art practice. Catherine Drea, Chair of Waterford Healing Arts Trust (WHAT), heard the call and a new connection was forged between WHAT artist Caroline Schofield and Corina.
During a year of working together in Corina's room in the nursing home, the artists spent time learning, being surprised, inspired and excited by each other, their practice, their methods and their approaches.  They began to shape a way of working together, a new creative process which allowed Corina to push the boundaries of her physical limitations and realise her artistic ambitions.  They explored new materials, but also re-used many puppetry-related elements from Corina's past work to re-examine her new circumstances.
In the midst of this process, Corina made the brave decision to face her greatest fear and create work which confronted her move into long-term care. She explains: 'I fought the impulse to make art about this life-altering time, but it was too strong. I had to accept and act on it.' The outcomes of this process can be seen in the forthcoming exhibition as Corina outlines:
I wish to present this utterly changed life's journey into full-time care – and what led to this decision – as well as the power of the collaborative process with Caroline which sustains me. This is an important story to tell about the creative process, and it also documents my evolution as an artist. This work is ambitious. It takes more energy and physical ability than I have: the thinking, planning, execution. I am determined to succeed, but I have come to accept that I must rely on my co-artist, Caroline. She is my hands. I cannot do this without her.
I brought the dream of flying… is being exhibited at GOMA Gallery of Modern Art from 14 January – 11 February 2023.
Updated 13 January 2023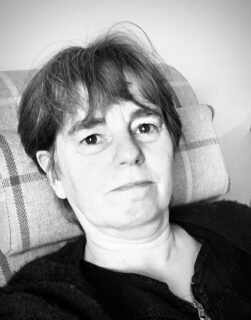 Corina Duyn
Dutch born Artist, Writer and Puppet Designer Corina Duyn trained as a nurse and social care worker before becoming a full-time artist after moving to Ireland in 1989.  The rapid decline in her health with the onset of Myalgic Encephalomyelitis (ME) in 1998, aged 36, changed Corina's creative ability, intensity and output.  Portrayal of life around her changed to exploring the inner world of illness, in order to understand this utterly changed existence.  Creative highlights in recent years include facilitating Life Outside the Box puppet project (2015), keynote speaker at Broken Puppet Symposium on Puppetry, Disability and Health (2018) and the Invisible Octopus video poem (2020), an extraordinary and succinct illustration of life with ME.  The need to move into long term care in 2021 further influenced her creative output, including now accepting use of her co-artist's hands to bring ideas into being.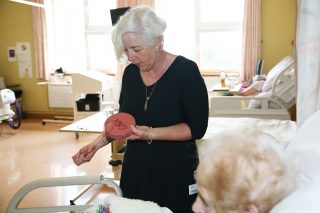 Caroline Schofield
Visual artist Caroline Schofield studied textiles at NCAD and completed a Master's in Art & Process at Crawford College of Art & Design. An Azure and TimeSlips facilitator, for Waterford Healing Arts Trust, Caroline delivers Open Gallery, a dementia-inclusive art project, and Art at the Kitchen Table, supporting older people to make art in their own homes. She recently worked with the Design & Crafts Council of Ireland on Narrative Tools, exploring the culture of making and handing down tools and skills within families and community.  Other work includes projects with Butler Gallery, Age & Opportunity and Open Circle. Caroline's work is found in public and private collections and has been exhibited nationally and internationally. www.carolineschofield.ie