News
Literature Dispenser at St Luke's Hospital, Dublin to celebrate National Poetry Day

To celebrate National Poetry Day on 27 April and Dublin International Literature Festival in May, Ema Staunton, Arts Co-ordinator of St Luke's Radiation Oncology Network, has introduced a literature dispenser, a novel way of sharing original short stories, poetry and comics with patients and staff.
The dispenser, developed by a French publishing house, Short Editions, was designed to be located in public spaces such as train stations, bus stops, and airports to raise literature awareness and to introduce new and emerging writers to the public. Whilst a great success in France, London and the US, only one dispenser has been purchased in Ireland to date, by Maynooth University. St Luke's Hospital, Rathgar is the first hospital in Ireland to have installed the dispenser.
The dispenser, on loan to the hospital during April and May, will be located in different areas of the hospital each week. By pressing the relevant button, patients, visitors and staff can access a short story, a comic strip or poetry and enjoy the work of almost 10,000 authors.
The Short Stories dispenser is connected to the community platform, Short Edition, which brings together more than 167,000 subscribers and authors. Ema also likes the idea that patients and staff could submit and upload their own stories to form a writing community within St Luke's Network.
Both staff and patients have responded enthusiastically to the introduction of the dispenser. Encountering new authors and unusual short stories is generating conversation in the waiting areas and cafés – a welcome distraction from anxious moments.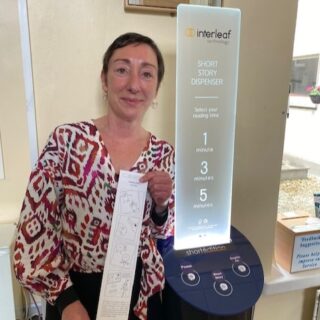 St Luke's Radiation Oncology Network
Since it opened in 1954, St Luke's Hospital in Rathgar, Dublin, has been caring for cancer patients from all over Ireland. In 2007, the National Cancer Control Programme (NCCP) was established. Under the Health (Miscellaneous Provisions) Act 2010, St. Luke's Hospital became part of the HSE and later part of the St. Luke's Radiation Oncology Network. The network operates from three locations in Dublin – St Luke's Hospital, Rathgar and St Luke's Radiation Oncology Units in St James's and Beaumont Hospitals.
www.stlukesnetwork.ie