Bookings are now open for Arts + Health: Check Up Check In 2023, the annual national arts and health gathering led by Réalta, the National Body for Arts + Health in Ireland. This year's event is taking place in partnership with Creative Life at Mercer's Institute for Successful Ageing (MISA).
Themed Making Connections, the 2023 programme will have a special focus on mental health and will feature a keynote address by visual artist and founder of the London-based Arts & Health Hub Daniel Regan, in addition to presentations by some of the most innovative and creative practitioners working in arts and health in Ireland today.
Check Up Check In 2023 takes place on Wednesday 25 October at the Creative Life Hub, MISA, St James's Hospital.
Making Connections
Check Up Check In promotes solidarity among artists, healthcare professionals and arts and health practitioners and is open to anyone interested in learning more about this dynamic field of practice. This will be the first time since 2019 this national gathering is being held in person, having taken place online during the pandemic, thus prompting the event theme Making Connections.
Presentations will explore mental health and wellbeing, and the challenge to practitioners of creating innovative, exciting and inspiring work within the healthcare context. In his keynote address, Taking Care of Ourselves, Daniel Regan will consider the myriad ways that arts and health practitioners can be mindful of self-care within their work. Drawing on his decades-long art and socially engaged practice, which often involves complex subjects and vulnerable participants, Daniel will offer his perspective on this rewarding, yet sometimes heavy work.
Programme highlights 
Check Up Check In also provides an opportunity for participants to come together to share their experiences, exchange ideas, and support and inspire each other in their practice through a range of themed presentations. This year, these include:
Sticking Points: What to do when you get stuck – Artists and healthcare professionals share challenges they have faced in their work and look for solutions to overcome them.
In Two Minds: Award-winning theatre artist Joanne Ryan presents a case study on her process of creating her ambitious and affecting play exploring the realities of living with bipolar disorder.
Peer Exchange Workshop: Enhancing Collaboration between the Health and Arts Sectors: A workshop seeking to promote mutual learning and collaboration, through the discussion of a number of key topics which emerged from a co-design process in 2022. This workshop is part of Expanding Arts in Healthcare, a national programme of work delivered by Réalta in partnership with the HSE.
What's My Practice? A series of workshops examining methodologies employed in collaborative/ participatory arts and health practice in Ireland, across a range of artforms.
Reflecting on achievements and important next steps: Conversation with Saoirse Finn, Research Fellow at University College London and co-author of the 2019 WHO Report on the evidence of the role of the arts in improving health and wellbeing.
Additional elements during the day will include performances by The Bleeping Interns choir from St James's Hospital, and the opportunity for some self-care, connecting with a poet under Poetry Ireland's Vital Signs initiative.
Booking information
Tickets for Check Up Check In 2023  cost €30 (including lunch)  and can be booked at https://www.eventbrite.ie/e/arts-health-check-up-check-in-2023-tickets-722150721247
Places for the What's My Practice? workshops are limited and must be booked in advance. Workshops are listed on the event booking page and outlined below. Please select ONE workshop. Details of how to book workshops are included on the event booking page.
What's My Practice? Workshops
Creative Pause
Facilitated by visual artist Catarina Araújo, Creative Pause is an imaginative workshop that promotes self-awareness and emphasizes the value of taking time and space for oneself, using process-centred and hands-on methods. Take a moment to notice how you feel and join us on this journey of self-reflection.
Clinical Notes: Transforming the clinical environment into a creative space through musical connection
Facilitated by musicians Emily Redmond and Luke Cosgrove, this practical music workshop will explore the importance of active participation, sensitivity to context and how to transform a clinical environment into a creative space.
Making connections for mental health; making connections in research
Facilitated by researcher Saoirse Finn, University College London, this workshop will explore the ingredients of arts activities and the mechanisms they activate that affect mental health and wellbeing, focusing on social connections, complexity and interdisciplinarity; and how making connections across research disciplines, research methods, and with individuals and organisations is fundamental to mental wellbeing and research.
Finding Common Ground
Facilitated by visual artist Ciara Harrison, and drawing on Ciara's experience of delivering a project with the Child and Adolescent Mental Health Services in Waterford, this workshop will encourage social inclusion and conversation through play and curiosity to find commonality within a group.
Giving Voice to the Self
Facilitated by writer Arnold Thomas Fanning, this practical creative writing workshop will provide an introduction to the theory and practice of Life Writing.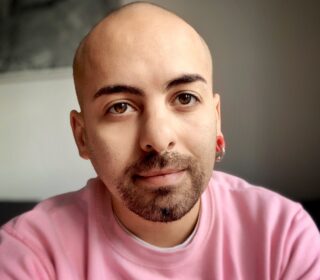 Daniel Regan
Daniel Regan works across the creative health sector as a visual artist, consultant, and founder and director of the London-based Arts & Health Hub, a not-for-profit organisation supporting artists and cultural producers in the arts and health sector to be the best they can be. Building on his own lived experiences and specialising in exploring complex and difficult emotional experiences, Daniel's practice focuses on the transformational impact of arts on mental health, and brokers dialogue around often taboo topics such as grief, self-injury, suicide and racism. Daniel delivers socially engaged projects and regularly exhibits and speaks at events across fine art, educational and clinical institutions in the UK and worldwide. www.danielregan.photography
Partners
Réalta, the National Body for Arts + Health in Ireland, shines a light on the transformative and central role the arts play in health. Réalta's vision is for the arts to be embedded into the provision of healthcare in Ireland.  To this end, Réalta develops and delivers a range of arts and health training programmes for artists, healthcare professionals and arts and health managers; Provides access to information, mentoring and advice; Supports networking of arts and health practitioners; and engages with the HSE and other policy makers to increase understanding and support of arts and health practice. Core funded by the Arts Council and the HSE, Réalta encompasses the Waterford Healing Arts programme and the national resource website artsandhealth.ie.
The Creative Life Programme at Mercer's Institute for Successful Ageing (MISA), St James's Hospital supports learning and education at the intersections of arts and health, and interconnects hospital and community. Creative Life is one of four pillars at MISA. This integrated programme involves experiential learning and educational components, at the intersections of arts and health, for people throughout the life course. Working to the principle that creativity contributes to healthy ageing, the Creative Life programme enables access to arts programmes for older adults, hospital staff, patients and their caregivers, fosters their creativity in a hospital setting, and provides supports to artists working in a healthcare context. Arts participatory workshops, events, discussions, choirs, performances, debates, lectures, co-creating and testing projects events are all part of Creative Life's inclusive programme. Guided by international practice, the Creative Life Programme, MISA collaborates with many partners, such as the Irish Museum of Modern Art, National College of Art and Design and Trinity College Dublin. For more information https://misa.ie/