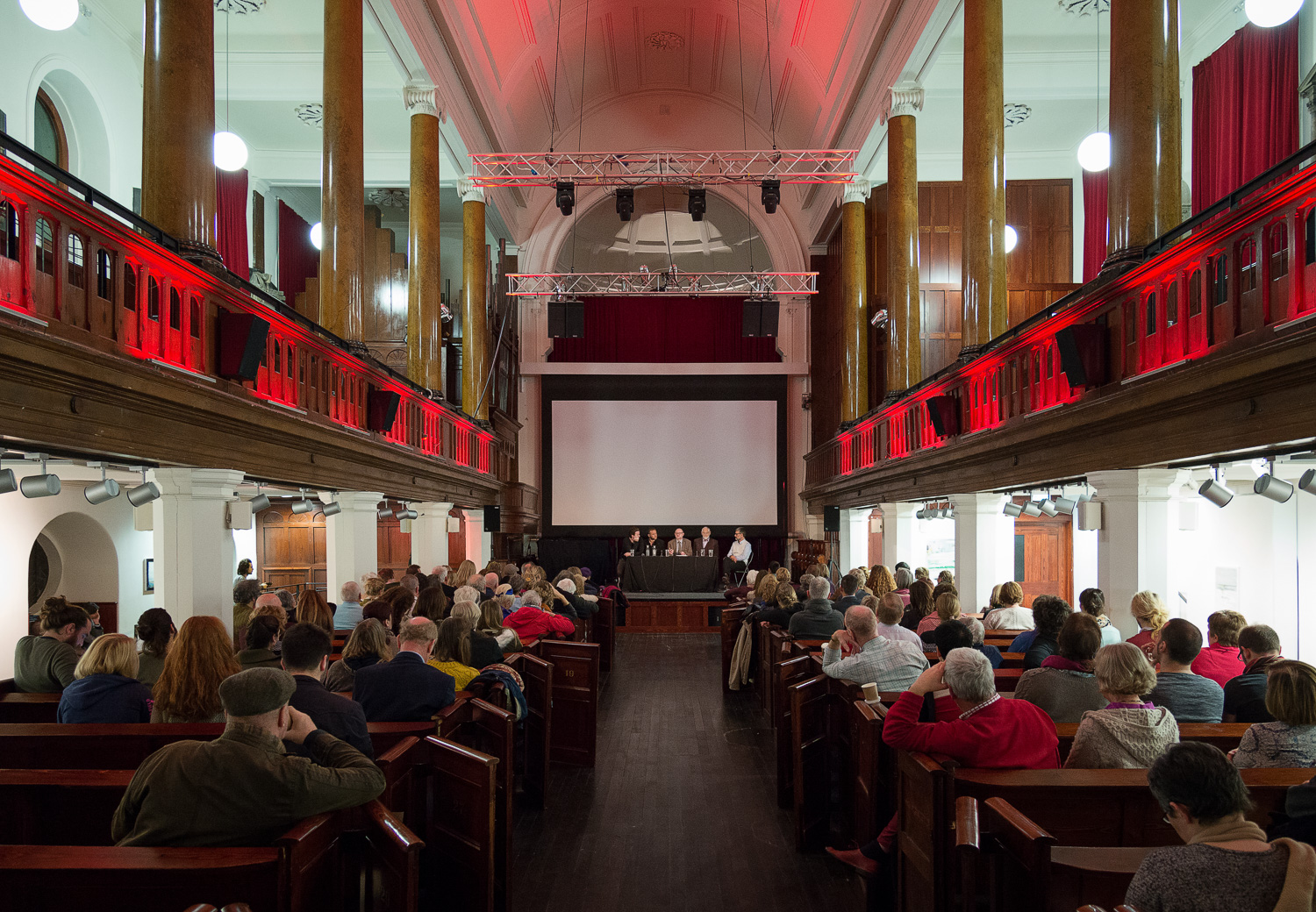 Participants
In addition to screening high-profile feature films, the Illuminate programme screens short films made by arts and mental health groups. For example, Arts + Minds (HSE Cork) and Headway have previously screened work.
Illuminate events also involve panel discussions with invited speakers and audience members. Invited speakers have included:
Professor Ivor Browne (former Chief Psychiatrist of the Eastern Health Board, and Professor Emeritus of Psychiatry at University College Dublin)
Dr. Pat Bracken (Consultant Psychiatrist, West Cork Mental Health Services)
Dr. Terry Lynch (author, mental health activist, physician and psychotherapist)
John Kastner (Emmy Award-winning documentary maker)
Terry McMahon (filmmaker)
Moe Dunford (actor)
Professor Harry Kennedy (Consultant Forensic Psychiatrist and Executive Clinical Director, National Forensic Mental Health Service, Central Mental Hospital, Dundrum)
Aine Hynes (Irish Mental Health Lawyers Association)
Sonja Heiss (filmmaker)
Richard Warden (Film Curator, Scottish Mental Health Art and Film Festival)
Dr. Peter Byrne (Lecturer in Psychiatry at University College London, and Associate Registrar for Public Mental Health, Royal College of Psychiatrists)
Many others, including mental health service users and service user representatives, also take part in the discussion events.
Aims
The Illuminate programme aims to:
use the medium of film to ignite meaningful public engagement – exploration, discussion and learning – around mental health issues in Ireland and internationally;
introduce Irish audiences to a range of high quality Irish and international films exploring issues of mental health that they may not otherwise have the opportunity to see;
challenge the stereotyping and stigma connected with mental ill health;
involve and highlight the voices and views of mental health service users and their family and friends, as well as health professionals, arts professionals, and the wider festival-going public.
Methods
The Illuminate programme is developed each year in partnership with Arts + Minds (HSE Cork) and other local partners. Cork Film Festival (CFF) selects films for screening and works with partners to select panelists and themes for discussion.
When curating the Illuminate project, CFF aims to present a diverse range of cinematic work that explores varying issues of mental health and stigma. Through the mediums of feature, documentary and short form cinema, Illuminate explores and discusses these stories in a meaningful and engaging way. Films are considered not only on their cinematic value, but on how they treat these universal, human issues.
For example, Hedi Schneider is Stuck (dir. Sonja Heiss), which was screened as part of Illuminate 2015, explored how acute anxiety can strike any of us at any time. This film is unique in its 'lighthearted' tone and humanises issues surrounding anxiety and medicalisation in a way that many films that deal with mental health do not. The subsequent discussion included the Director, who shared that she had herself experienced mental ill health. This led to a particularly open discussion and exchange with panelists and audience about the realities and challenges of mental ill health in terms of stigma, productivity, relationships, creativity and the importance of contrast and humour in life and filmmaking.
The short film One of Those Days (Dir. Arts + Minds with Colm Walsh) was also screened at the same event. One of Those Days was conceived, scripted, acted, shot and edited by HSE mental health service users and staff, working in collaboration with filmmakers Colm Walsh and Ed Cashman, with support from Cork Film Festival and Cork City Council. For this film, the group chose to reference mental health in an oblique way, but they also used humour to tell the story of a day in the life of a young man living in Cork.
One of the main approaches of the Illuminate programme is to use the universal and democratic nature of cinema as an artform to explore issues that are too often stigmatized and academicised. By framing these issues in the artistic context, Illuminate engenders a new type of inclusive discourse around these issues.
Artistic Outputs
Illuminate involves three to four events each year, taking place as part of the Cork Film Festival. All events take place in the Triskel Arts Centre, Cork. Each event involves the screening of a feature film and may involve a short or series of short films, followed by a panel and audience discussion. Over 450 people attend each year.
In 2016, Cork Film Festival will take place from 11-20 November. Illuminate events will take place at Triskel Arts Centre from Friday 18 – Sunday 20 November 2016.
Evaluation Methodology
The programme is evaluated internally. Audience and panelists' views are captured following the event. Each year the Illuminate team reviews events and feedback in order to inform future planning.
Evaluation Outcomes
A sample of the feedback that has been received from audience members and panelists includes:
'I want to thank you again for your kind invitation to be a speaker, post film, at the Illuminate strand of the Festival last year … People want and need to hear neglected stories through film (and other arts & media) about the lives of their neighbours and families who have mental health problems. Your approach treats the people and the subject of mental disorders with the dignity and depth it deserves.' – Dr. Peter Byrne, Lecturer in Psychiatry at University College London, and Associate Registrar for Public Mental Health, Royal College of Psychiatrists
'It was interesting to see the public response to our own short film "One of Those Days" as we put a lot of time and effort into making it. The film "Hedi Schneider is Stuck" was followed by an eye opener discussion panel involving the director, various guest speakers and members of the audience. What interested me most about the film was the way it dealt with Hedi's mental health issues using techniques such as comedy and drama. All in all the filmmaking experience was very worthwhile and has whetted my appetite for future projects'. – Audience member and Arts + Minds Film Project participant
'This is an excellent project, daring to bring challenging emotional and psychological issues into everyday discourse through the medium of film. Very worthwhile, and very necessary, in a society that is often inclined to shy away from such realities.' – Dr. Terry Lynch, physician, psychotherapist, author and mental health advocate
'I really enjoyed the whole experience, it's different and you are just like any other person when you are in there' – Audience member and HSE mental health service user
'The screening of the Arts + Minds short films "Into the Darkness" (2014) and "One of Those Days" (2015) as part of Illuminate was a tremendous endorsement of the work of these young filmmakers. Thanks to our partnership with Cork Film Festival, film project participants also got to attend a wide range of other films at the Festival in 2014 and 2015, and to meet the CFF Director, staff and visiting filmmakers to discuss the films they had attended. This experience gave participants a new confidence to express their views and facilitated them to view film from a different perspective. Feedback from the group suggests that they are keen to continue their engagement with film, filmmaking and Cork Film Festival.' – Mary Dineen, Community Mental Health Nurse and Chair of Arts + Minds (HSE Cork) (recently retired)
'Illuminate is a creative and intelligent strand of programming that has provided radical moments for audience participation and engagement with artists and health and well being professionals. Through the medium of carefully curated films and discussions, audiences gain insights into the process of making work and have possibilities to explore highly personal experiences and insights in a supportive and enabling environment. This programme is urgent and relevant.' – Mary McCarthy, Chair Culture Ireland, Director National Sculpture Factory
'I had the honour of participating in Illuminate last year as the moderator of a post-screening discussion, and I made certain to attend the strand's other events while at the Cork Film Festival. The overall experience resonates with me as one that was enlightening, entertaining and inspiring – all of which contributes to an initiative having impact outside the exhibition space. Comments and questions from the audiences demonstrated a very high level of engagement, which was not surprising given the appropriateness and quality of the films shown and the panelists involved. Illuminate is doing something extremely important, and even necessary, and I hope to see it continue long into the future.' – Richard Warden, Film Curator, Scottish Mental Health Arts and Film Festival, Mental Health Foundation Scotland
'It was interesting to hear the director [Sonja Heiss] speak about the film ["Hedi Schneider is Stuck"] and what motivated her. The programme encouraged meaningful debate about current mental health issues.' – Ann O'Sullivan, Community Mental Nurse
'This series of discursive events, using the popular medium of film to explore and encourage debate around mental health, is one of the innovations I am the most proud of since I joined the Festival team in 2013. I am especially gratified in the way that it has attracted a 'non-Festival' audience, and how enthusiastically they have responded.' – James Mullighan, Creative Director, Cork Film Festival
Documentation and Dissemination
Illuminate events are audio recorded and promoted through Cork Film Festival's website. The Festival also works hard to promote and disseminate the outcomes of the project through its PR channels and social media community. The Festival's photographer documents the events (where appropriate).
Podcasts of Illuminate discussions from 2014 can be listened to here: www.mixcloud.com/CorkFilmFest/
The 2015 Illuminate programme can be viewed here. The 2016 programme will be announced in October 2016.
Partners
Arts + Minds (HSE Cork)
HSE Cork Mental Health Services
Project dates
Illuminate was initiated in 2014 and takes place each November as part of Cork Film Festival.
Lead organisation
Cork Film Festival
Funded By
Illuminate is funded by Cork Film Festival and HSE Cork Mental Health Services.
Cork Film Festival is funded by:
The Arts Council, Cork City Council, Cork City Council Arts Office, Failte Ireland and Culture Ireland.
Healthcare context(s)
Mental Health
Nature of project
Screening
Web link