Case Study
O Bhéal guth Béal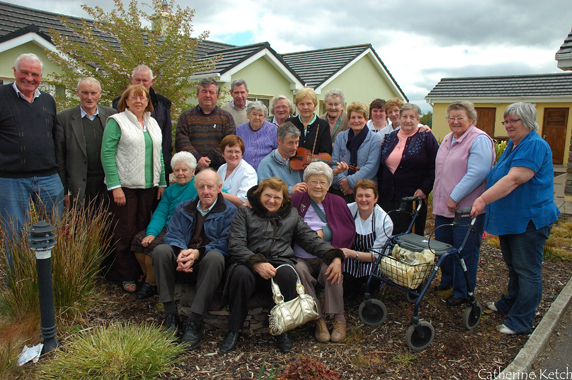 Aims
To develop new compositions that expressed the participants' experiences of life in all its varied aspects.
To create songs and stories of significance, meaning and legacy.
To create artworks that that would become part of a local repertoire of music and song.
Methods
In order to gather material for compositions, the musician, Ger Wolfe, attended various local social events. He spent time at Scoraíocht or get-togethers where music and dancing is shared.
Ger also spent many afternoons at more intimate gatherings, with perhaps four or five people with a tape recorder, pen and paper, gathering sean-fhocaile and stories.  He gathered expressions or ways of speaking or saying something in Irish that would be peculiar to this Gaeltacht area.
Ger composed songs based on the material he gathered.
Evaluation Methodology
Bríd Crannitch, from Ionad Culturtha and Eibhlís de Paor from the Ealaíon na Gaeltachta group continuously evaluated the progress of the project. Ger submitted a written journal documenting his experience to Ionad Culturtha.
Evaluation Outcomes
'People interacted well with one another and sometimes discussions became heated especially in relation to more controversial topics. I always tried to keep the topics light hearted by concentrating on everyday situations and events. The Múscraí Gaeltacht is an area very rich in oral and written literature and tapping into this was not difficult because of the participants' generosity.
The songs and tunes I composed were in styles that are familiar to people such as old time waltzes and military two steps. I also composed a few ballads which I had never done before and I wrote some new dance music, again something I had only dabbled in heretofore. As I was working with new styles I was broadening my own experience of composing music. I also learned a lot more Irish through this process.
An interesting note is that people have come up to me on the street to talk about things they had forgotten about that were mentioned in the songs.
The main reason I am interested in folklore is the folks! I would love to think that some of these compositions could become part of a living tradition but this of course is something that is completely beyond the control of any organisation or official body, as folklore only becomes folklore because of the indefinable reaction of the people who listen to and learn it and because of a genuine interest or love of the thing.
I like to think that the participants benefited greatly through our meetings by reminiscing about the past. We all like to think about the past and this must become stronger as our family members and friends pass on and as children grow. People received me very warmly. Sharing music, chatting about the present, and discussing people's ideas, hopes and fears for the future benefited everyone.
The most important benefit of the entire project was that people had fun.'
Ger Wolfe, Musician
Documentation and Dissemination
As a culmination of the project, a concert was held in Ionad Cultúrtha in Baile Mhúirne. Two local musicians performed with Ger to an audience which included many of the contributors.
Ger also performed a number of the songs at different get-togethers in the area.
In a separate project, Ger recorded Fréamh: Root, a bi-lingual CD containing new songs and traditional style tunes composed as part of this project.
Partners
Cork County Council, Ealaíon na Gaeltachta, The Arts Council
Project dates
Springtime 2009
Lead organisation
Ionad Cultúrtha, Baile Mhúirne
Funded By
Local Authority, The Arts Council
Artform(s)
Music, Traditional Arts
Healthcare context(s)
Older People
Nature of project
Collaborative/ participatory