Case Study
The Creative Check Up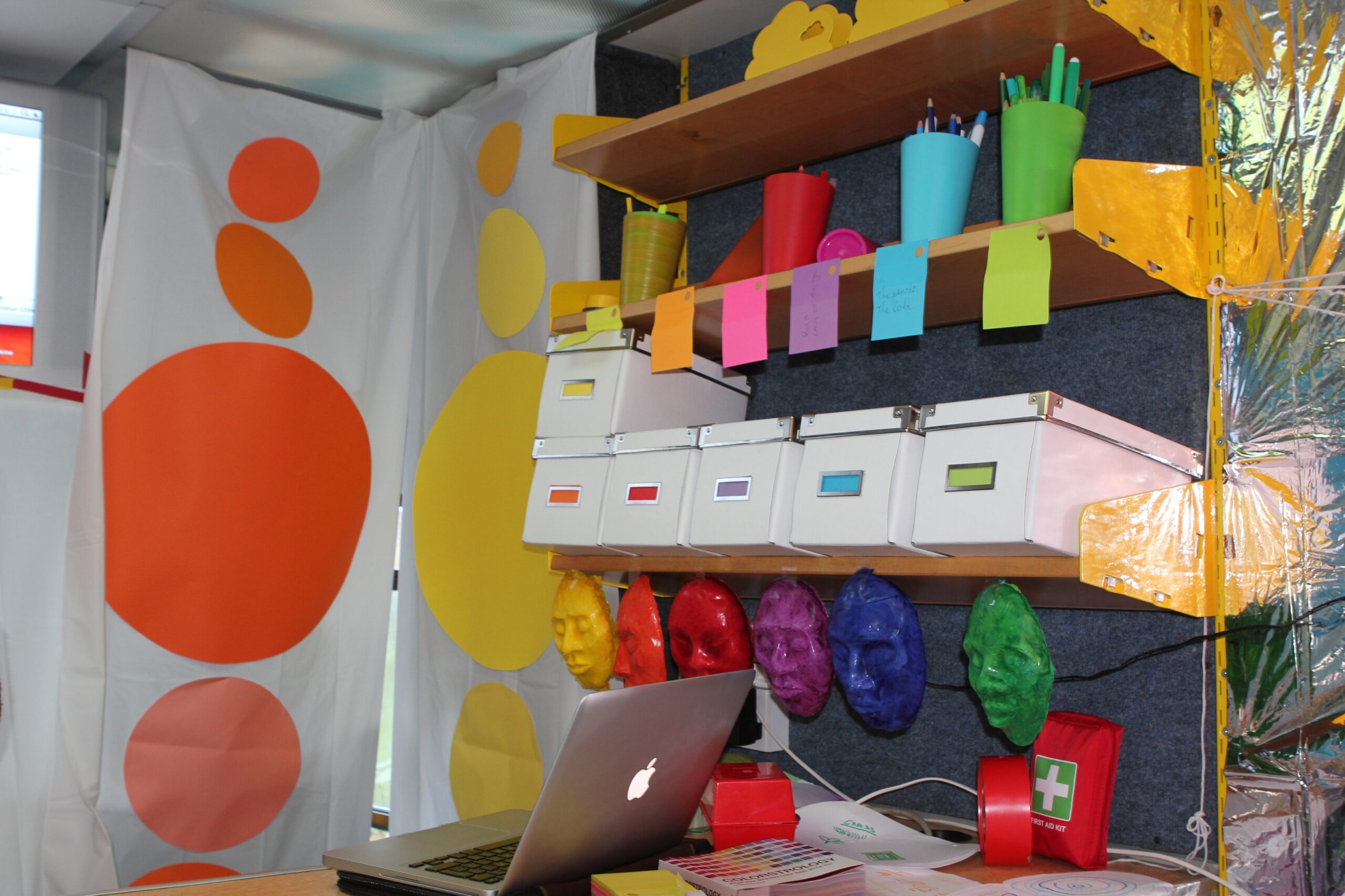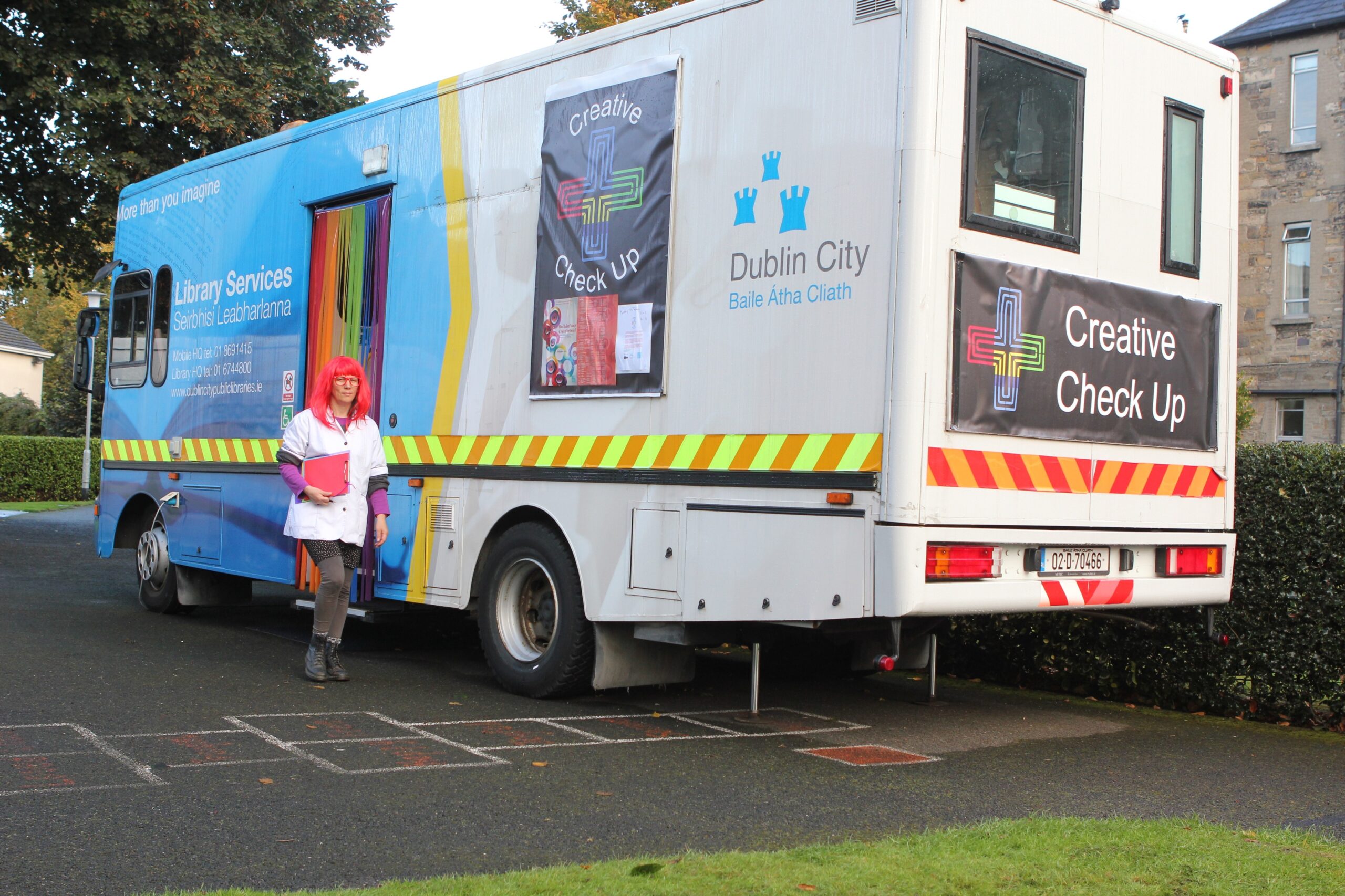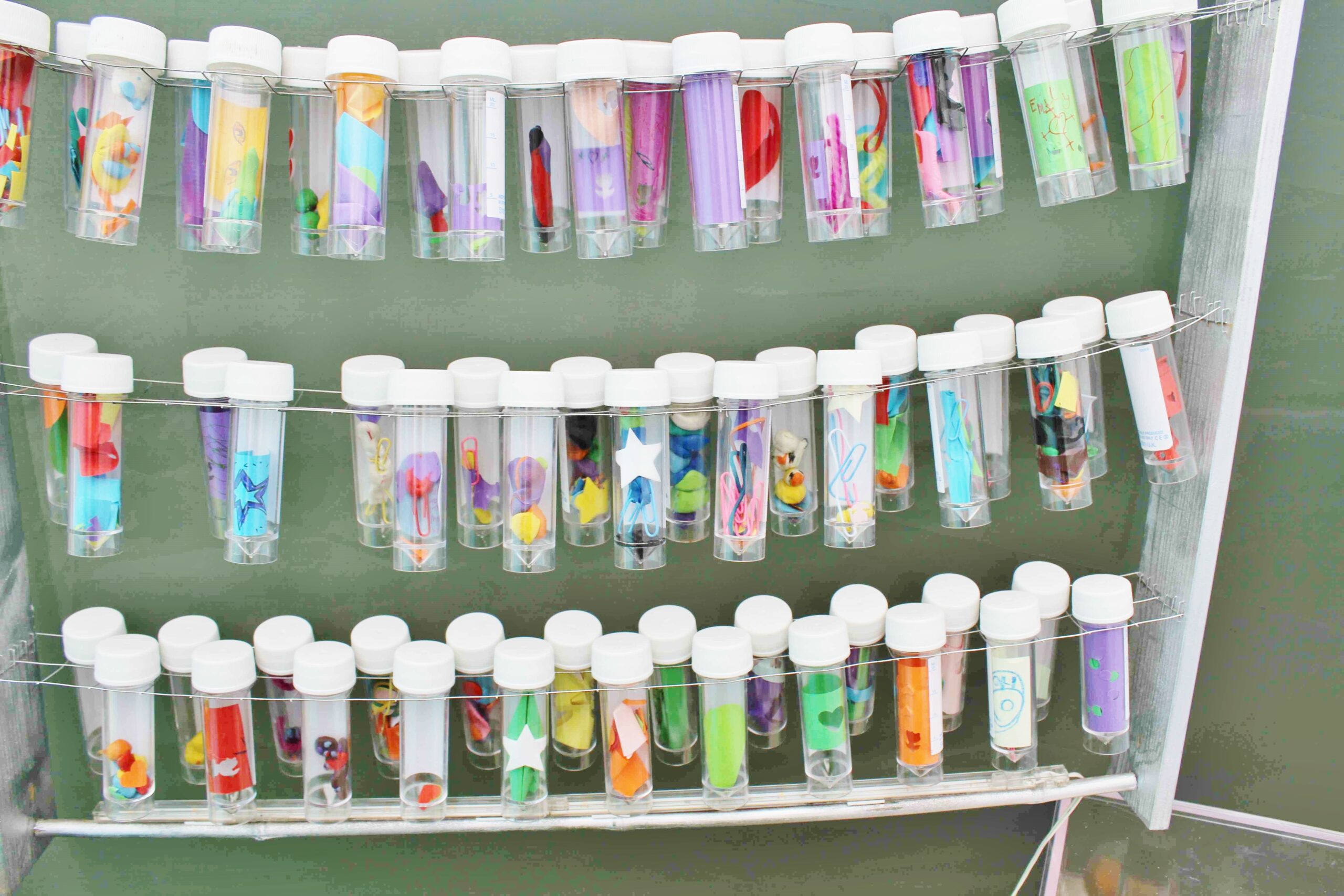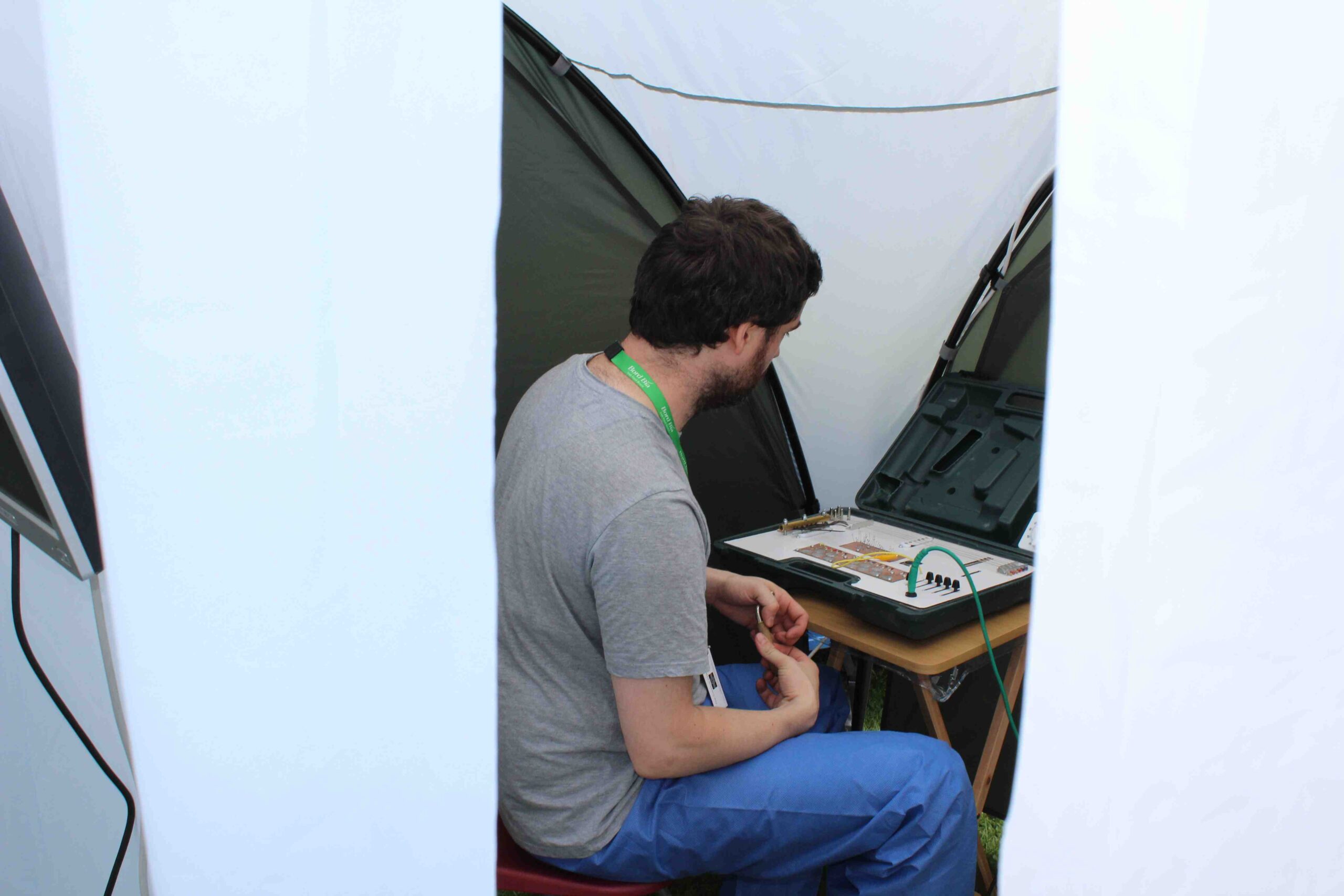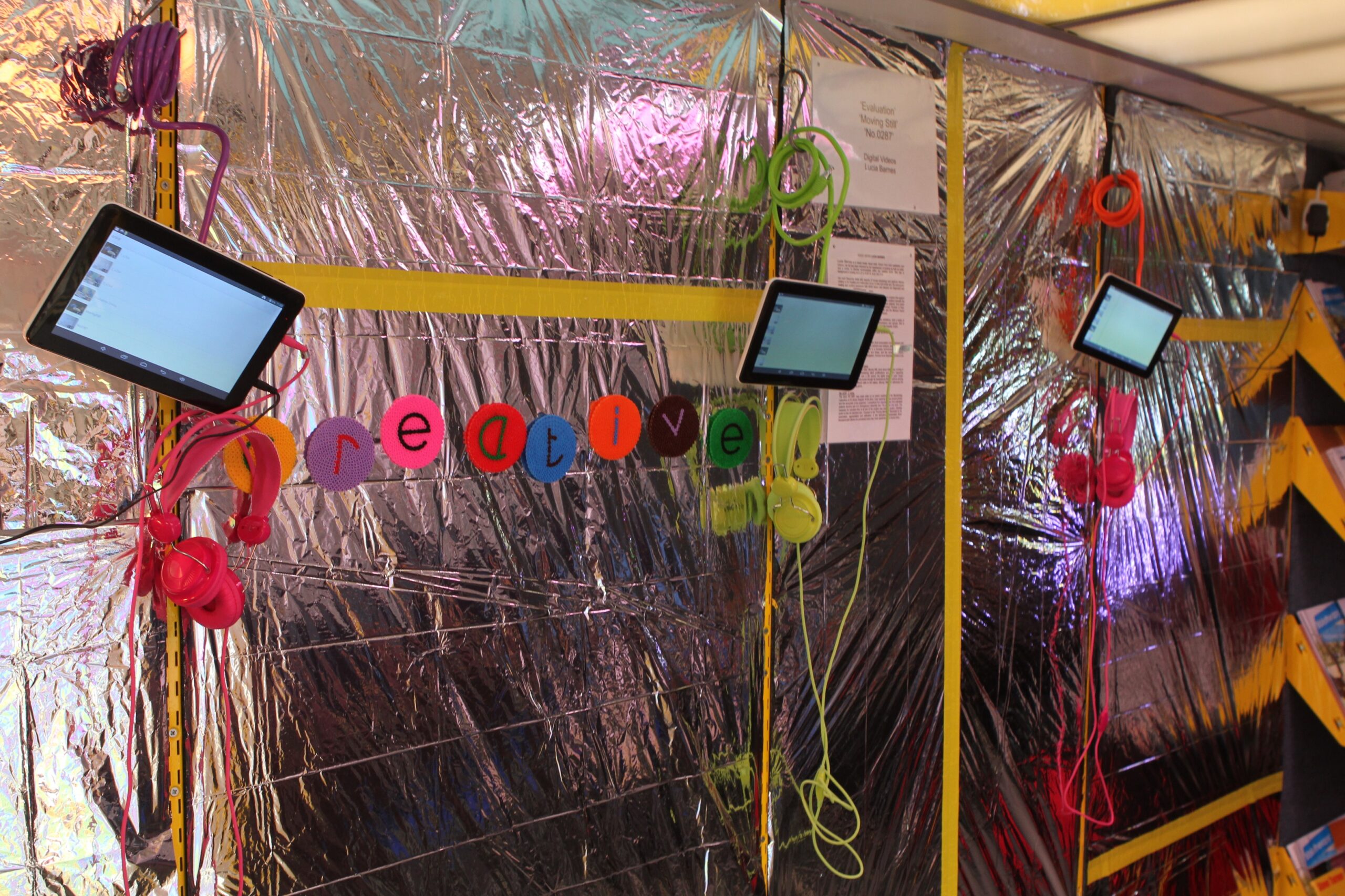 Participants
The Creative Check Up is accessible to a wide range of participants. We see health as a socio-economic leveller and actively mirror this. It is aimed at adults, although children have been very welcome and have participated alongside parents or guardians. In the events so far, the Check Up participants have included service users, staff and visitors in a general hospital; festival goers; people of all ages and abilities and family groups; service users, staff and visitors in a psychiatric hospital; and invited groups and friends.
Aims
The project started its life as part of Phizzfest, a community arts festival  in Dublin 7. The challenge was to come up with an arts and health programme for the festival. We took as our model primary care services in the community such as the pharmacy, the GP surgery and mobile facilities such as cholesterol testing vans. We developed the idea of engaging the public in a playful exploration of their artistic health in the form of a visit to our Creative Check Up.
Our aim is to compare this imaginative artistic engagement to seeking remedies, prescriptions and tonics for all aspects of health and wellbeing. The objective is to create an accessible interface for participation in the arts that is not housed in a traditional gallery or education space. The Creative Check Up is mobile so that we can take our clinic to a variety of contexts and we strive to surprise and intrigue the audience.
Methods
The Creative Check Up is an experiential installation with a starting point, reception and waiting room, leading to a range of optional clinics for audience participation. The spaces used include the Field Hospital, housed in a tent structure, and the Mobile Check Up, which is in a large vehicle. The artists all take on a role during the event and have been assigned posts such as Nurse/Receptionist, Electrical Surgeon, Audiologist, Colour Clinician and Craft Doctor.
Art-making participation is facilitated at several stages of the process, beginning with the participant being asked to provide a mini artwork in a sample jar on first registering with Nurse/Receptionist Aileen Curtin. Taking part in sculptural surgery with Ulrika Holmkvist and Hugh Harte has taken a variety of forms, including a hack lab, sewing sculpture, botanical engineering and the creation of worry dolls. Throughout the installation there are many possibilities for conversation and discussion and participants are invited to talk about their creative histories, be they in music making, painting, sewing, knitting, gardening, clothing or interior design.
The Colour Clinic, operated by Laragh Pittman to study and discuss ideas, emotions and cultural meanings attached to a particular colour, culminates in a request to contribute a piece to the colour gallery. Audiologist Ed Devane focuses his discussion around personal experiences of sound and gives an opportunity to experiment with instruments and audio technology. Within the bus facility a small space has been customised as a sound and light laboratory. There are also several audience-led possibilities: a computer app by Hugh Harte featuring audio collaboration with Ed Devane, based on the Plutchik theory of emotion, and the Mental Wealth Dispensary, a self-directed writing station created by Aileen Curtin. Video artworks by artist Lucia Barnes as well as many other visual, tactile and light elements are an important part of the overall aesthetic. 
The Creative Check Up has taken place this year in the Mater Hospital foyer for Phizzfest 2014 in May; with Dublin Library services at the Rose Festival in St Ann's Park in July; and for five days in October during 'Reclaim Your Creative Soul', a celebration of the Arts for Mental Health Awareness & Wellbeing at St. Patrick's Mental Health Services as part of the Twilight Programme. This latter event was hosted in partnership with Dublin Library Service and their Learning Bus, and also showcased the Bibliotherapy initiative, a medically approved prescription of self-help books, in collaboration with the HSE.
Artistic Outputs
In the Creative Check Up, tiny sculptures in sample jars have grown in number to form stacking arrangements for display; a sculptural surgical creature has been assembled; small individual works, light flowers and worry dolls have been crafted; visual samples collected by the Colour Clinician have been added to a digital gallery and sound samples collected by the Audiologist are building towards the construction of a new composition.
The artists are now planning to produce an installation to showcase the results of their research and also to disseminate some of this information through their website.
Evaluation Methodology
As artists in this context we evaluate our process through the level of participation we achieve. The processes we use are intuitive and improvisational to accommodate the diverse environmental considerations. The work has also been evaluated in the form of discussion during regular meetings of the artists' collective and the artists have also been keeping reflective journals. The collective has sought out verbal and written evaluations from their partners in the project.
Evaluation Outcomes
All participants have come freely to the project and are able to engage at their own pace; the only personal information required is to state a favourite colour.
We have had a lot of positive feedback about the intriguing, amusing, playful and aesthetically striking nature of the project. However, our research indicates that many people are comfortable with these qualities in arts participation when they are provided for children and we had to draw on our skills to persuade some people that it could be for them too. We actively collect testimonials and are collating feedback. For example, many people initially stated that they were "not artistic" but through the Creative Check Up process recognised their innate creativity. Once involved, the engagement for most participants was quite in depth with long conversations and discussions about creative health. Some feedback led us to think of tailoring our clinics to offer more tangible outcomes for participants, perhaps by giving a diagnosis or prescription on leaving.
Participation statistics for 2014:
Mater Hospital 5 May, 4 hour session, 87 participants
Rose Festival 19 & 20 July, 2 x 4 hour sessions, 120 participants
St. Patrick's Hospital 13 – 17 Oct, 5 x 4 hour sessions, 110 participants
Documentation and Dissemination
The project has been presented in the form of a lecture and slide presentation at the Arts Clinic as part of Phizzfest May 2014, during the Twilight Programme in October 2014, and at the Trinity Education Centre in Tallaght Hospital in October 2014.
Due to ethical considerations, there was no recording in hospital settings whilst the public was engaged in the event. The artists staged and re-enacted the project with consenting adults and children outside of the event times. Photographs were taken at the Rose Festival with the consent of participants. Notes were taken by some of the artists during the process to document ideas and comments from the Check Up clients.
A promotional video for the Creative Check Up can be viewed here: http://vimeo.com/96806730
Partners
Dublin City Libraries
Project dates
May 2014 - Mater Hospital
July 2014 - Rose Festival
October 2014 - St. Patrick's Hospital
Lead organisation
The Check Up Collective
Funded By
Dublin City Arts Office
Dublin City Libraries
St Patrick's Mental Health Services
Artist(s)
Aileen Curtin, Ed Devane, Hugh Harte, Laragh Pittman, Lucia Barnes, Ulrika Holmkvist
Artform(s)
Digital Art, Multimedia, Sound Art, Visual Arts
Healthcare context(s)
Acute Hospitals, Mental Health, Primary Care/ Community Health
Nature of project
Collaborative/ participatory, Exhibition, Performance, Research
Web link