Arts and Health Programme
Dance Theatre of Ireland
Web address
Address
Bloomfields Centre, Lower Georges Street, Dún Laoghaire, Co. Dublin, A96 Y7W6
Healthcare context(s)
Dementia, Health Promotion, Mental health, Older people, Parkinson's
Service(s)
Education and training, Participatory arts, Performances

Mission / Aims
Dance Theatre of Ireland's mission is 'Transforming People's Lives through Dance'.
Aims
To put people in touch with their creative selves;
To increase access to and participation in dance, including those who might not participate otherwise;
To educate and innovate in the practice of dance for health, wellbeing and creative expression;
To challenge limiting perceptions of older people and people with chronic disease;
To provide quality experiences in the art of dance through participation activities, classes, performances and workshops.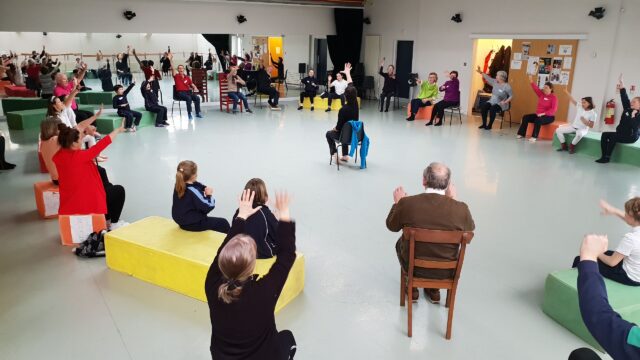 Dancing Well With Parkinson's class at DTI
Areas of activities
Since 2014, DTI has innovated the award-winning Well-Dance for Seniors, an evidence-based dance programme that addresses creativity, mobility, social connection, balance confidence and wellbeing. Well-Dance has had over 2,100 participants to date, with weekly classes in Dún Laoghaire and other locations and free online classes throughout the country. Participants have reported increases to their mobility, creativity, emotional and physical wellbeing, as documented by the Department of Occupational Therapy at Trinity College Dublin.
Well-Dance has been introduced to HSE Primary Care Teams and classes take place in DLR County nursing homes, care facilities, and many greater Dublin and Wicklow communities.
Dancing Well with Parkinson's is a programme of weekly creative dance classes for people with Parkinson's, both live and online, in partnership with Move4Parkinsons and the HSE. DTI is part of the international Dance for PD programme, a worldwide movement to improve the lives of those living with Parkinson's.
Movement to Music inclusive of Dementia is an in-person dance class inclusive of people with dementia and families / care partners. The programme takes place in partnership with the HSE Living Well with Dementia CHO 6 programme and Saint Joseph's Shankill (residential and day care services for people with dementia).
DTI also hosts Vintage Youth, a Seniors Performance Ensemble who create original dance theatre works for festivals, theatres and events.